"We don't look at food justice as an issue in itself. It's not something that exists in a bubble—it's connected to so many different systems of oppression."
This is a point that Joyti Chand, a founding member of the Crenshaw/Baldwin Village Mutual Aid Program (one of Food Forward's community partners), stresses during our conversation. Joyti and Miyoshi Morrow, Co-Leaders of the program, spoke with Food Forward about their efforts to provide access to healthy foods in the Crenshaw area. For them, the free food program is also a way to build community leadership and a culture of mutual aid in a neighborhood that is facing gentrification, economic disenfranchisement, and corporate and police violence.
We spoke to Joyti and Miyoshi as part of our new blog series, Framing Food Justice, which aims to explore the nuances of food justice here in Southern California. We know that food justice is about more than just food—it's about racism, classism, access, opportunity, housing, sovereignty, and so much more. And the best way to peel back those layers is to talk to the people who are deeply involved in food justice and community-building work. Throughout this series, we'll be speaking to people from different backgrounds about what food justice means to them, the barriers to food justice in their community, and their vision for the future.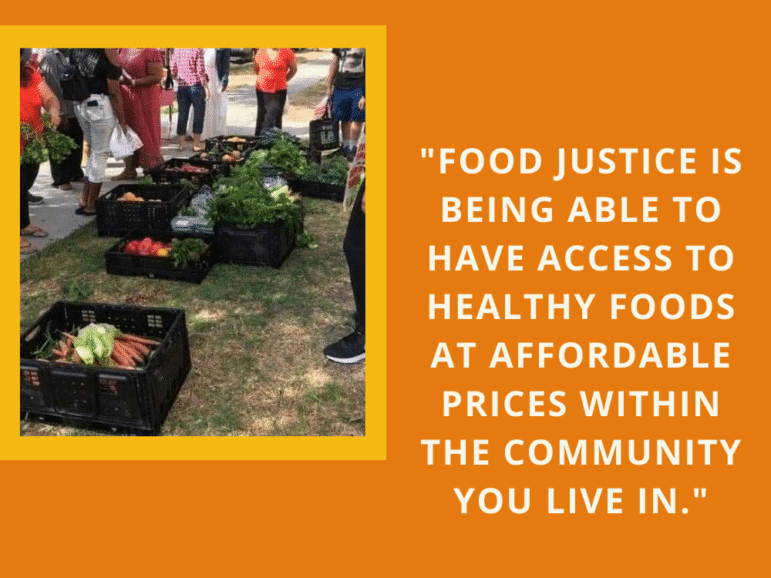 Food Forward: To start, can you introduce yourself and tell us about the work you do with Crenshaw/Baldwin Village Mutual Aid Program?
Miyoshi Morrow: I've been involved with Crenshaw/Baldwin Village Mutual Aid Program for 3 years. I would visit my cousin in the neighborhood and always see Joyti giving out fresh produce—and I noticed the need in the community by the long lines of people who came out. I asked how I could help out and have been volunteering ever since.
Joyti Chand: I'm one of the founding members of the program, I'm also a resident in the community. It's been three and a half years since we started the Crenshaw/Baldwin Village Mutual Aid Program. This effort came out of other work I was involved in, through the Stop LAPD spying coalition and addressing LAPD raids where our community members were criminalized, targeted and displaced. So, while increasing access to healthy food is a big part of the work we're doing, the other arm of this work is developing the relationships and leadership of ourselves and our neighbors. Myself, Miyoshi, and a core team of community members lead this effort while a larger body of community members also provide feedback and represent our work.
FF: Is your work at Crenshaw/Baldwin Village Mutual Aid Program paid or volunteer?
JC: The program is fully volunteer-based and resident-run. We're residents in the community who took on this effort. I work full time in a domestic violence, rape crisis, homeless shelter.
MM: I'm a case manager at St. Joseph Center. I work with the homeless population and clients who are housed, helping them with case management and maintaining housing.

JC: We definitely bring our paid work into the effort of the mutual aid program. Our sensitivity is towards people who lack access, people who are unhoused, as well as women and LGBTQIA+ people in the community that are most vulnerable to economic and state-sanctioned violence.
FF: What does food justice mean to you?
MM: Food justice is something that emerges from communities in response to food insecurity. It's being able to have access to healthy foods at affordable prices within the community you live in. For me, I'm a pescatarian, so the majority of the time I'm only eating vegetables. But I can't find everything I'm looking for in my community. I have to outsource, I have to go to other communities, far out, to find the food I'm able to eat.
JC: We don't look at food justice as an issue in itself. It's not something that exists in a bubble—it's connected to so many different systems of oppression. One of the core principles we have at Crenshaw/Baldwin Village Mutual Aid Program is human rights for all. We see food justice as a fundamental human rights issue. That includes access to basic resources like food, shelter, water, a clean sanitary environment, and freedom from economic, police, emotional/psychological and all other forms of violence. Unfortunately, under capitalism, these rights are denied to the people and given based on privilege, but for us these rights should not be based on privilege, but on dignity and basic human rights. So we see food justice as purely a human rights issue. It's the same as the right to live in a safe community; we don't want to fear violence from the police, or fear violence from being evicted or being unhoused.
Also, I think food justice kind of implies what someone from the outside can do for us. And in the community that we live in, and all across Los Angeles, or any low-income community, over many generations, people have in many ways internalized a savior complex, that someone from the outside is going to do this for us. So, one of our core principles is to make that cultural shift, to instill in the community the idea of mutual aid, not charity. We always say mutual aid, not charity. We're not a charity program. For us this is the most indigenous way and how black, brown and oppressed people have survived generationally. This is the fundamental principle core understanding behind mutual aid.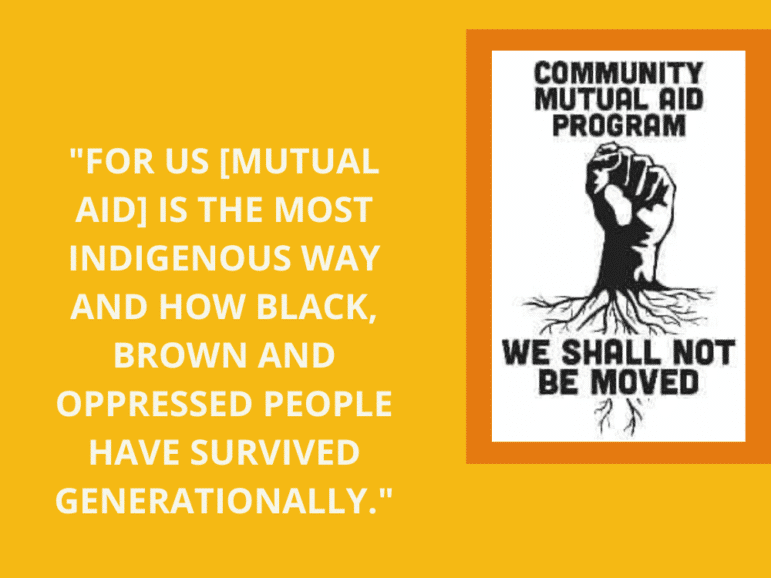 FF: What systems of oppression affect your community's ability to access healthy foods, and how?
MM: South LA has only a limited number of outlets offering healthy foods, and the lack of access to nutritious food contributes to serious public health problems like diabetes and obesity. And the food being brought to our community isn't held to the same standard that I see in wealthier or upper-class communities. We had two Ralph's in the community, and the community had to close one down because they were selling spoiled meats, old produce, and just the lowest of the low quality food. Just because our community is lower-income, that doesn't mean—like Joyti said, it's about human rights, basic human rights.
JC: Food justice is a human rights issue for us and how systems of oppression impact the community are key to that. There is an income gap, and our community is also impacted by the disparity in wealth and resources. The Crenshaw Subway Coalition's report, "Capri's Crenshaw Mall Redevelopment: Urban Cleansing by Another Name," highlights the impact of gentrification and the cultural and economic displacement of low-income Black (and now brown) residents of the community that we live in. First and foremost, we are dealing with the pushing out of long-term, historical Black residents – people that have lived here for 30, 40, 50 years. The report also goes into the issue of cultural displacement—when people in our community are displaced out to the outskirts of Los Angeles, which increases the risk of violence [against them].
This report highlights that for a person or family to afford a 2-bedroom apartment at market rate, newly built in our community, they must earn approximately $104k/year. Based on the 2010 Census, the annual income in Leimert Park is $36k. In the Baldwin Village Census Tract, it's $19 to $20k. This is where our Mutual Aid Programs are located.
In our community, we see a high police presence and surveillance from LAPD. We constantly see the harassment and treatment of specifically Black residents, both housed and unhoused.
The lack of access to housing, clean food, mental health services, etc. is not because the resources are not there, but because they are thrown away to policing. When we look at the Los Angeles city's budget, the LAPD's budget is close to 1.9 billion dollars – about 53 or 54 percent of the unrestricted funding for the city is going to policing. It does not go to directly aid community members or provide services that are critically needed.
Because the city has not prioritized low-income housing, across the city and in our community we see more and more people that are directly unhoused, anywhere from children to senior citizens. And with COVID we see it getting much worse. Additionally, seeing the impact of [COVID] on people who are undocumented as well— it is worse than it ever was. When you walk in our neighborhood, you see an increase in unhoused residents, slum housing, and gentrified apartments. There are very little recreational centers, mental health facilities, or any place for children to gather and have social time. There is such a lack of financial resources for the community, and this includes access to food and shelter. We're clear that the resources are there, it's just that our community is not being prioritized by the city and the powers that be.
There is an incident I witnessed recently that highlights the violence that residents are experiencing. It happened at the local Albertsons Store. I walked in to do some shopping, and before I knew it, the store employees were chasing out an older Black man, a community member, who was probably close to 80 years old. The worker at the store shoved and body-slammed this elder onto the floor. Besides the emotional violence he must have experienced, I was so nervous that the elder could have gotten severely, physically injured. The next thing I know, the worker had a small bag in his hand—the man had taken a couple sandwiches and food items. And I see the bag, and him being thrown onto the floor, and the punches, and then I see people in the store watching what is going on, and the alarm of community members that this elder is being assaulted over food. But on the flip side of that, I see other community members who are congratulating the staff.
For me, that incident was so telling, because it shows, first, the violence of corporations and the suffering of the poor and low-income people in our community. It is a stark reminder that the interests of these corporations are not aligned with the well being of the community. Their interest is rooted in profit and violence over the health and wellness needs of the people. It also highlights for me the classism and the anti-black racism. If this was not a black man, the response [from the store] would have been completely different. [In this one example] there are so many systems of oppression at play – including capitalism, the mismanagement of City funding, anti-black racism; and how community members that are also low-income have internalized these systems to act as agents for them. For [us], it just makes our work ten-fold. The real work of the mutual aid program is to undo these dynamics and systems, and to build our own systems and resources, that are not just financial.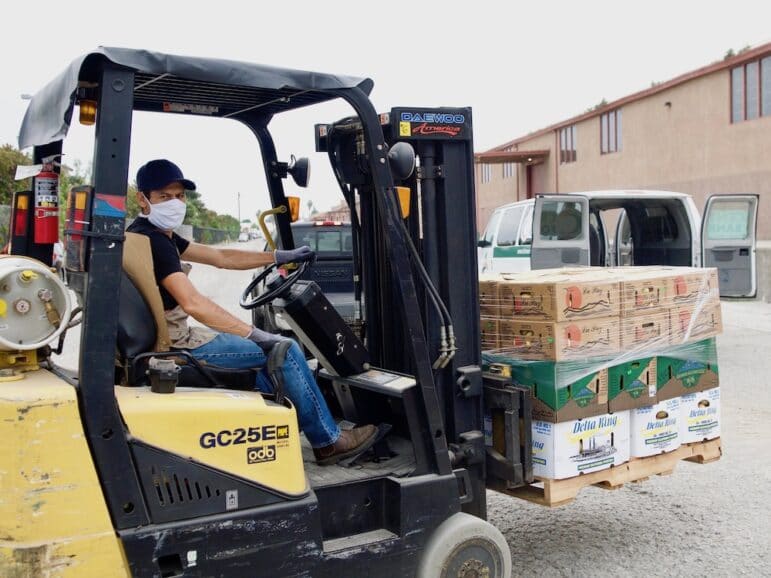 FF: If you were talking to someone who has never been to your community or heard of your work, what would you want them to know about what the issues are, what the solutions are, and who's driving the solutions?
MM: I would say more access to affordable, healthy food resources. The other issues [I would highlight] are the rent increases, property managers not making repairs, the gentrification, and the cost of living going up while living conditions aren't changing. And like Joyti mentioned, there are no community centers for the kids in the community. They were trying to tear down the YMCA to build condos—with no regard for the community around! There definitely needs to be more community engagement: ask the community, come out and talk to the community. It seems like it's all about money. When you start tearing down the YMCA, knowing that there are no other recreational area for these kids to play in, and you're trying to build condos in a low-income community, that makes no sense!
FF: And when you say community engagement, do you mean from the developers, from the city government, are there specific folks that you wish were more engaged?
MM: When the city has meetings, they need to do more to put it out to the community. We have the internet, we have mail, so they need to put forth the effort to engage the community more. To [show us] that "we know you're in this community and you have a say-so." A lot of people in this community don't know they have a say-so, or they don't know who to express everything to.
JC: There definitely is a stigma towards the community we live in. A lot of times when someone is not familiar with Baldwin Village or the Crenshaw area, there's a misperception that this is an unsafe area. We are aware that this misconception is racialized, rooted in anti-blackness, and is class-based. But for those who have this false narrative, we want to educate them that there are people who have lived in this community for 20, 30, 40, even 50 years. We have an elder in our community who has lived in the community for a total of 48 years. And in our Mutual Aid Program, the core body and the gatekeepers, are the elders who have been here for decades, who are invested in building our community. For me, that's a really important narrative. Where some parts of Los Angeles are still experiencing an influx, our community has people who have lived here for many, many generations. And as far as the Food Program, we see long-term residents who are intent on building trust and relationships between neighbors and wanting to be a part of providing what is needed. This narrative is also about the right of people to stay in their neighborhood. People have a right to remain in their community where they feel comfortable and safe, and to not be pushed out. This is not a transient community that is on their backs and getting used to the gentrification or the changing of the neighborhood. There are many, many people that have decades deep in this community and lots of love for the community, that are determined not to be pushed out.
FF: It sounds like there's a kind of natural organizing that's happening within the food program. Are there other community organizing efforts to fight the gentrification that's happening?
JC: Our program has some loose connections to the tenant's union, the Crenshaw Subway Coalition, and other groups that are really focused on policing. So far, our capacity has let us first to identify who our neighbors are, so that we ensure the leaders of our program are also from the community. We took it upon ourselves to do that hard bread and butter work so it's not [being done] by people who are parachuting in from the outside. We look forward to more collaboration with the groups mentioned.
FF: What's something you wish people understood about this issue?
JC: When we talk about food justice and food insecurity, it doesn't exist in a bubble. It's a part of a larger system of oppression and lack of access. We've internalized these systems and we have a role to play in undoing that for ourselves. This is what we are doing.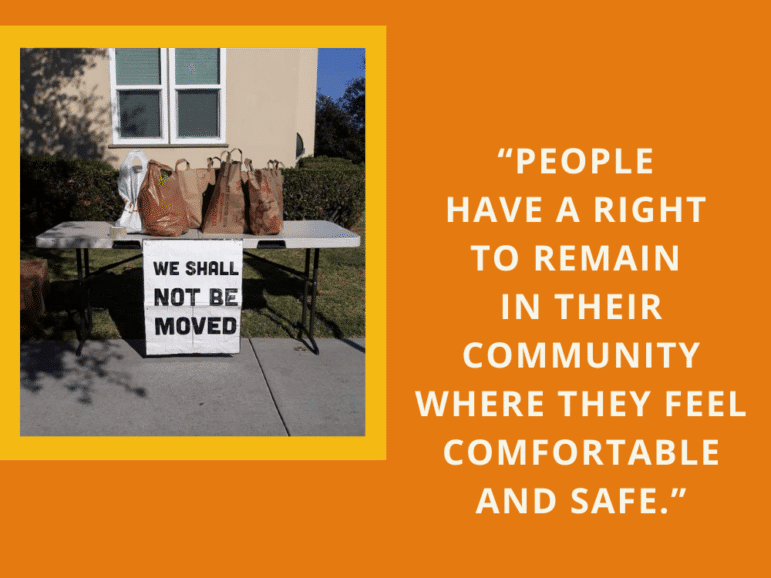 FF: What is your vision for a more just community and society, and how do we get there? How can people contribute?
MM: My vision is for access to more opportunities within the community. More programs in place. Our community needs to unite, volunteer, we can fundraise, have more community meetings and hear the community out. As far as how people can contribute, we work with homeowners who have excess food that they're growing in their backyard, if they're gardeners, or if they have trees that have fruit. If you have a home and you have trees that are giving you too much fruit, we accept donations from that. We also accept diaper donations, PPE, hand sanitizer, and monetary donations. There are many ways you can help out our cause!
JC: Our vision is for mutual aid. We don't look at our effort as something that's [going to] parachute in or parachute out. It's really a long term effort of empowering people within the community and making a cultural shift, so that each of us has a sense of responsibility over ourselves and our [neighbors]. Our vision is to instill that [sense of responsibility]. And Miyoshi mentioned the homeowners' program we have—In the long run, we don't want to be dependent on agencies to provide us the food, [we want to develop relationships with] people who have access to land, homeowners or community-based organizations or community farms, so we have an independent source of food. So while we truly, truly appreciate the partnership with Food Forward, it was really eye-opening that when COVID hit, the food we were getting from the farmers market became inaccessible (because Food Forward stopped recovering produce at certain markets). And of course, now we're going to the Produce Pit Stop to do pickups, but it just really made us realize that we have no independent source of produce, and actually it should be coming from the community that has access to land. So that's really the direction that we want to go towards.
And as far as the city, and the policies, and the budget, it's not that people are unaware, it's that they maybe feel that they won't make a difference, or that they're not being engaged, or that there are many barriers in that engagement. So we want to really build our capacity to engage our community on those issues.
FF: The vision you're describing of having the food come from the community is such a great illustration of mutual aid. It's almost like a [closed] economy, but a sharing economy.
JC: We've found that there are homeowners who really want to contribute but they just don't know how to contribute. And then there's also breaking the barrier between renters and homeowners, especially homeowners that are more recently moving into the community. They also see that they have a role too, that while they may have greater access [than] their neighbor who doesn't, they have a role to play in that as well.
MM: If people want to receive food, they can contact us at [email protected].
JC: We are also looking for volunteers, so if anyone wants to volunteer they can contact us!