12.5.16 – While celebrating what we're thankful for, we recognize that far too many people do not have access to the same resources, privileges, and basic human necessities. One of the things we are most thankful for is the opportunity for us to be involved in the fight to end hunger across Southern California, and all of the amazing partners we have the opportunity to work with. This week we are giving a shout-out to college groups that have highlighted the need for food justice, and taken initiative to address hunger on college campuses.
Student hunger is not new, but until recently food access at colleges and universities has not received as much national attention as it deserves. Stigmas associated with poverty, homelessness, and food assistance programs have reinforced a lack of visibility of food security on college campuses, while research into hunger and food insecurity (generally defined as a lack of reliable access to enough food) has focused more on other demographics and communities. That is, fortunately, beginning to change.
A recent study found that 1 in 5 students within the California State University system does not have access to enough food, while 1 in 10 is homeless. Estimates from recent surveys at UCLA also put the rate of food insecurity among students at 20%, much higher than the average rate of food insecurity for the whole U.S. population (15.9% in 2012, according to Feeding America).
1 in 5 students within the California State University system does not have reliable access to enough food
As it becomes clearer that food insecurity is a huge problem for school communities, students and faculty are taking action. Colleges and students have placed a large emphasis on community engagement, activism, and service for a long time, but now they have begun to address the need for change on campus. Many schools have created innovative programs to address student hunger, and we're excited to introduce a few amazing programs.
Food Forward began working with LACC in early 2014, one of our first partnerships with a University group interested in combating student hunger. The President of the Associated Student Government at the time, Food Forward Super Volunteer Heidi Johnson, approached us with the opportunity to help them launch a Resource Center that provides food, clothing, and other items to low-income students and members of the campus community. For the past two years, Heidi has been coming out regularly to the Larchmont Farmers Market to lead teams of volunteers in gleaning produce from vendors at the market. Most weeks, 100% of that produce goes straight back to the LACC Resource Center to help students, faculty, and staff.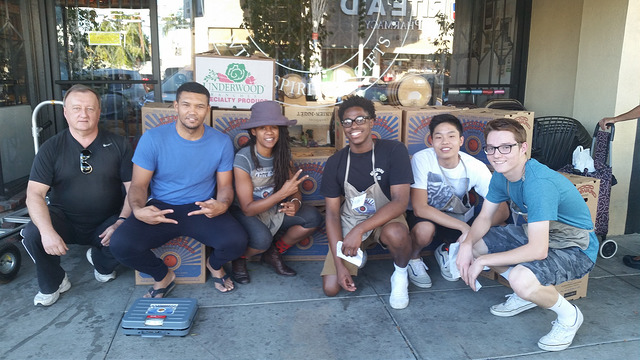 Having already successfully launched one farmers market in cooperation with a local University, Food Forward was already on the lookout for more opportunities to connect with students fighting hunger. Late last year a former Food Forward student intern involved with the UCLA Healthy Campus Initiative formed a "Glean Team" of student volunteers who have been coming out to collect hundreds of pounds of produce from farmers markets near campus every Sunday. The students bring this produce back to UCLA, where they distribute food to low-income students at the UCLA Food Closet and 580 Café Food Pantry.
Students Feeding Students at SMC
Another effort that we've been lucky enough to be a part of is the Students Feeding Students event at Santa Monica College. SMC Students from the Club Grow club go out to a number of Farmers Markets once every semester to glean surplus produce from farmers and take it back to campus. They organize a free "farmers market" where students and others can check out and take home an amazing variety of fresh, local produce. The event, which has been going for a few years now, is very popular with students and other SMC members and draws a big crowd of "shoppers" every semester.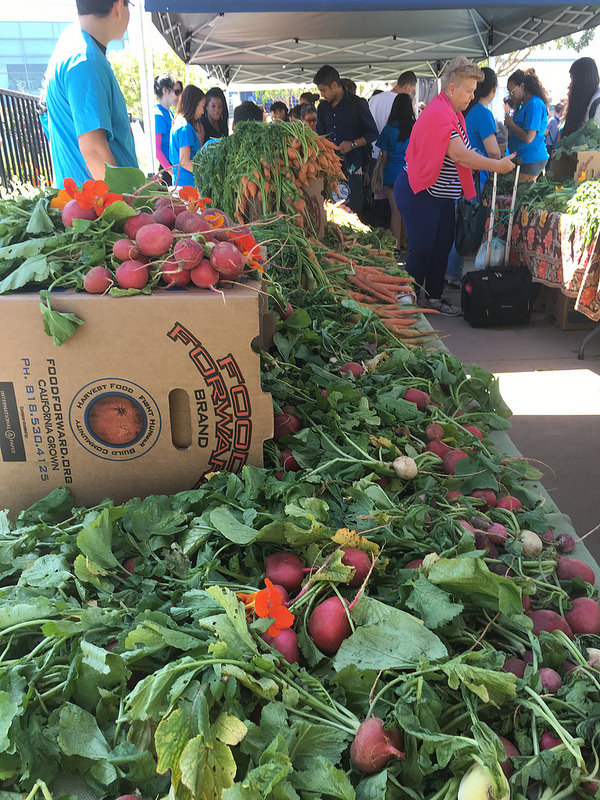 The Campus Hunger Project
Two of our amazing partner organizations in the fight against hunger – Challah for Hunger and Mazon: A Jewish Response to Hunger – have teamed up to start a new initiative addressing hunger on college campuses. They are bringing together resources for students, advocates, supporters, and anyone who is trying to learn more about or act on this issue. They are also empowering students and other members of college communities to speak up and advocate for better food access for all. If you're interested in learning more or getting further involved, we definitely recommend checking them out: