Gleaning is an ancient form of food recovery & support that's making an amazing modern comeback! Here's a definition of the word "glean", a history of the movement, and a discussion of gleaning today.
A History of Gleaning and the Food Recovery Movement Today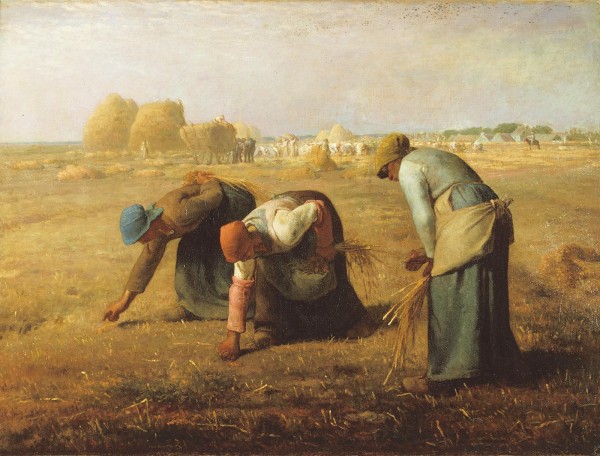 The Gleaners by Jean-François Millet, 1857
What does "glean" mean anyway?
Glean:('glēn) verb
1) to gather or collect (something) in a gradual way
2) to search (something) carefully
3) to gather grain or other material that is left after the main crop has been gathered
Gleaning has been an important form of social welfare for well over 2,000 years. The Old Testament of The Bible commanded Hebrew farmers to leave a portion of their crops un-harvested and allow poor neighbors and strangers to come onto their land to pick what was left for themselves and their families. In England and France, the government actually protected the rights of rural poor to glean leftover crops from nearby farms.
Picking leftover crops for the local community was an essential part of farm life and the harvest process for hundreds of years, until new private property laws and farming technology began to limit gleaners' rights. It was common to see people out in fields picking leftover crops until after the end of World War II.
In 1987 the U.S. House of Representatives Committee on Hunger held a hearing to raise awareness of and support for gleaning organizations across the United States. Nine years later President Clinton signed the "Good Samaritan Act," which encourages individuals and organizations to donate excess food instead of throwing it away by protecting donors from liability on any food donation made in good faith.
Now there are gleaning organizations across the country, and over 20 organizations in California alone! The Society of St. Andrew, which has been gleaning in the United States since 1983, has distributed food in every state except Alaska and Hawaii and has recovered over 700 million pounds. Gleaning organizations today – predominantly faith-based and non-profit organizations – recover food from farms, restaurants, grocery stores, wholesale markets, Farmers Markets and backyards.
Sadly, we need gleaning programs more than ever right now. A recent report estimated that as much as 40% of the food that we produce is never eaten. At the same time, there are 49 million people in the United States who do not have enough money to cover their basic food needs.
More organizations across the United States are beginning to look at food-waste recovery as one of the most efficient ways to address both problems at once, and several have come up with exciting new ideas. Non-profit and for-profit organizations have begun using social media and the Internet to connect abundance with need, and there are food-waste recovery Apps in development in San Francisco, Boston, and Southern California. Organizations like Food Forward are finding new ways to glean, but the idea is still the same: Harvest Food, Fight Hunger, Build Community.
Learn More About Food Recovery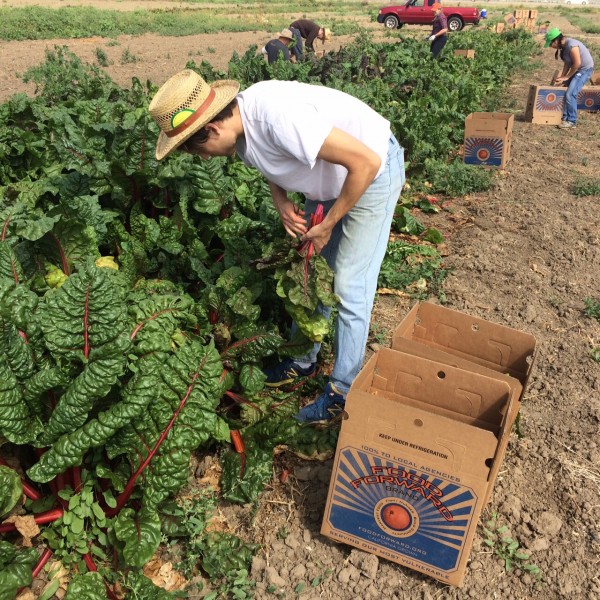 Gleaning at McGrath Family Farm
Sources and Further Reading
Liana Vardi, "Construing the Harvest."
Peter King, "Gleaners, Farmers, and the Failure of Legal Sanctions in England 1750-1850."
Stephen Hussey, "The Last Survivor of an Ancient Race."
Sandrine Badino, "Understanding Gleaning."
Gleaning groups across North America
http://www.feedingamerica.org/hunger-in-america/our-research/map-the-meal-gap/2012/2012-mapthemealgap-exec-summary.pdf
http://www.nrdc.org/food/files/wasted-food-ip.pdf
http://www.villageharvest.org/harvestingdirectory