Food Forward's Social Media Coordinator and Super SUPER Volunteer, Devyn, visited the Wholesale Produce Market recently to see first hand how Food Forward is able to recover millions of pounds of fresh produce from the market per year. Read on for a wonderful account of food recovery on a huge scale and learn just how early the Wholesale Recovery Program staff has to get up in order to save tens of thousands of pounds of produce before 10 am!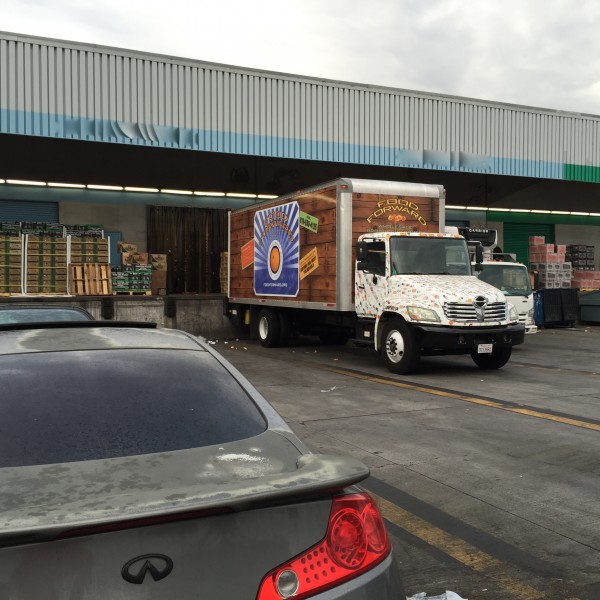 Chapter 1: Preface
So, what's the skinny on Food Forward's Wholesale Recovery Program? Well, simply put, it's just another one of our incredible programs that results in sizable donations of fresh fruits and vegetables delivered for the immediate satisfaction of people in need.
WRP is a program dominated by our two phenomenal Wholesale Recovery Program staff members, Luis and Felipe. Luis is also our wholesale program manager. These two are up before the crack of dawn (literally, 2:30am) Monday-Friday so that they can be at the market to collect donations of produce that may not look perfect, but are most definitely delicious. Similar to Backyard Harvest and Farmers Market Recovery, all donations go directly to local hunger relief agencies.
An average day at the wholesale market will yield 2-4 loads of fruits and veggies – approximately 35,000-70,000 pounds for the food insecure. We have collected a total of 10.5 million pounds of produce since its inception.
Join me, along with Food Forward Volunteer Coordinator, Joe Bobman, as we shadow Luis on one of his workdays, and get ready to be blown away.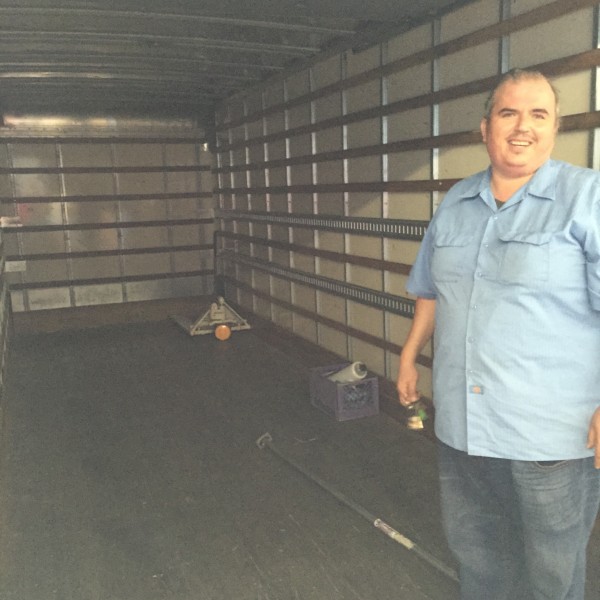 Chapter 2: Getting Acquainted with the Market
First and foremost, major props to Luis and Felipe for simply being able to get up AND FUNCTION at 2:30 am on a regular basis – it's not easy. Even with coffee, the struggle was definitely real. Fortunately, they drive the big truck and I don't.
The day really began at 4:30am, when Joe and I met Luis at the truck yard in Montebello where our beautiful truck lives – about 20 minutes from the market.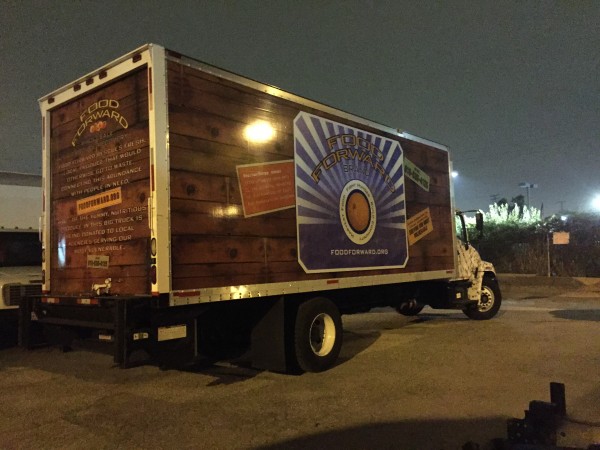 We arrived at the market around 5am, and I have to tell you – it looked nothing like what I had imagined. I had pictured flea-market type of arrangement with one huge warehouse lined with vendors, and lots of people hectically scurrying around and haggling for the best deals. Not the case! The market is set up as five 'islands,' with various vendors occupying different blocks of each island. The outside of the island is a loading dock, where trucks can pull up and load their purchases (or, in our case, donations). Venture inward and you'll find a refrigerated storage area packed with crates upon crates of produce – on shelves, lining the walls, stacked on top of each other, you get the idea. Go in a little deeper and you'll come out onto a runway of sorts, lined with displays of fresh produce.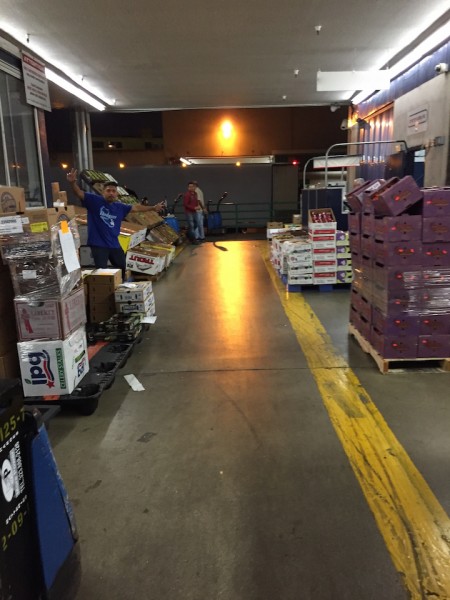 It's more food than I've ever seen in my life, and certainly some of the most beautiful. Some displays were arranged by type, so a cluster of apples here, a shelf of peppers there. Others were arranged like rainbows, with bright reds, yellows, and oranges, and deep greens. I was slightly blue when I didn't see any blue, but I got over it.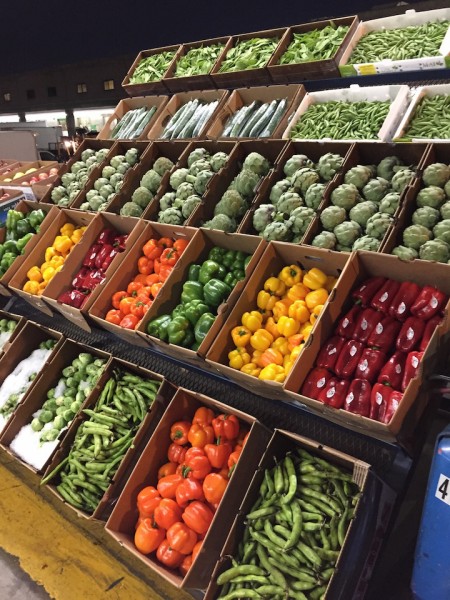 Despite the early hour, the market was alive. Given that the market actually opened at midnight, the vendors were already almost halfway through their day – even still, the sun hadn't risen yet. Luis seemed to know everybody, and greeted every person he saw with a bellowing hello – some even got a review or two from one of his favorite operas. Intense levels of chatter and scurrying of forklifts dashing around the island; it was by some miracle that I wasn't impaled.
The smells were so distinctive, with different scents hitting me out of nowhere. A whiff of basil, the acidic scent of citrus, the sweet smell of melon, and the bitterness of leafy greens also made our acquaintance at one point or another.
Chapter 3: Donations
For the first hour or so, we secured donations: we visited Luis' vendor friends, inspected the produce that they'd be willing to donate, and organized the pickup if we decided to take it. And while there were definitely watermelons that were more water than melon and a few moldy grapes, for the most part, the fruit was completely passable. No, better than passable, actually really good.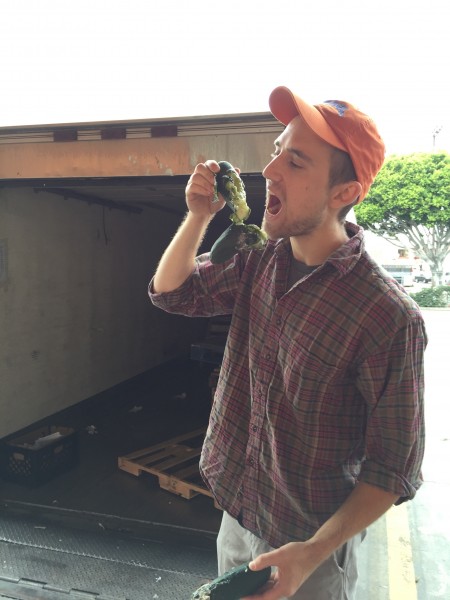 Ok, maybe not this one, but I promise, if I closed my eyes, I'd never know it wasn't perfect.
Upon inspecting a crate of fruit, Luis would often cut into a sample to taste it and make sure it was up to Food Forward standards.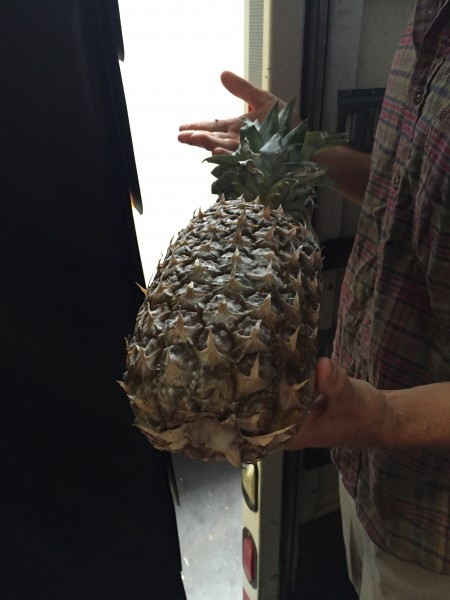 It's ironic to think that the visual supermarket standard we are so accustomed to judging our produce on does not always accurately represent quality. For example, we got an entire palate (about 1,000 pounds) of cucumbers that were being thrown away because the ends of them were slightly bowed and squishy – just the ends! The rest of the vegetables were perfect, but because of that one minor – and from what we understood, common – flaw, vendors were unable to sell them. Into the trash they went. Had we gotten there in time, we would've been more than happy make all of them ours… Ah well, onward!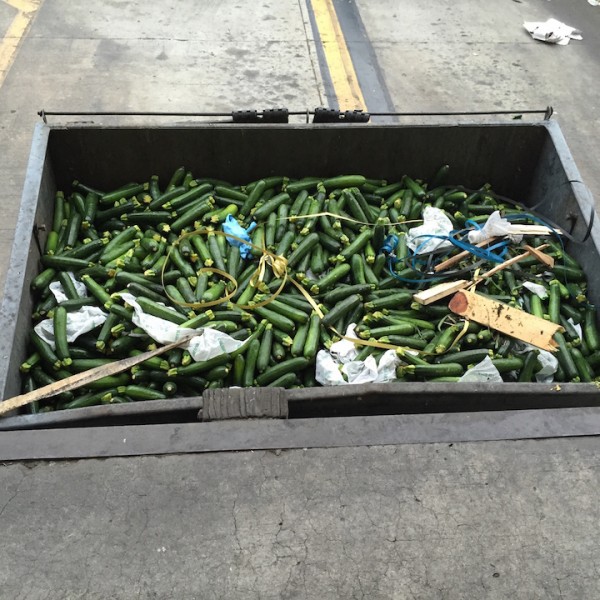 Chapter 4: Drop-Offs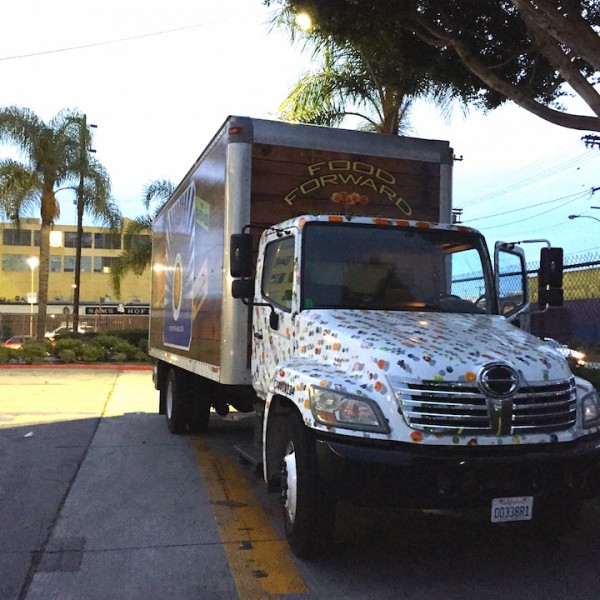 So you know, our truck fits up to ten pallets of food, or between 10 and 15 thousand pounds. Once we reach capacity, we have to drop off that load at a receiving agency, and then go back to the market with an empty truck to fill up again.
On the day that Joe and I went, we received two loads of donations; one load went to Heart of Compassion and the other went to the Dream Center.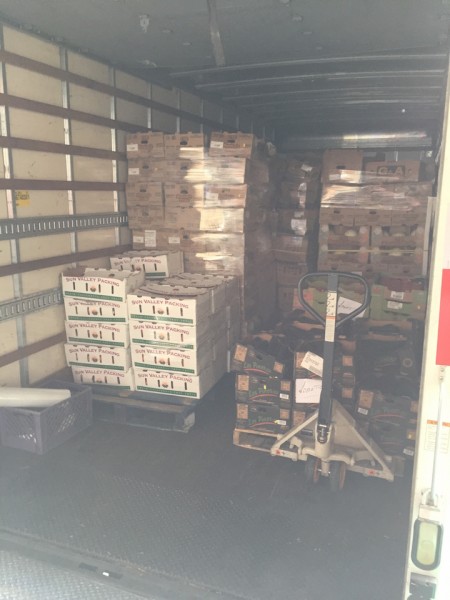 Heart of Compassion is an awesome receiving agency and a distributor; they have a huge food pantry and seven trucks like ours. Most of the produce was stored in huge bins or in stacked crates, while the rest was packaged into goodie bags of sorts, ready for pickup. The bags were organized by content, so one bin of bags might contain produce, one might contain household items like soap or kitchen spray, one might contain grains like bread or pasta, another might contain beverages, and so on. A family that Heart of Compassion serves will attend a prayer service, and then receive one of each of the bags to be taken home. I was floored by the efficacy of their system, and by how many needs they were able to accommodate. They go well beyond feeding families, and work to assist them in their daily lives. It was heartwarming.
Reason #2 that Heart of Compassion rocks: hello, compost! To keep anything from going to waste, Heart of Compassion started three compost piles in their parking lot. They alternate layers of mulch with rotten produce, and have staff members turn the piles every 4-8 days; one pile is turned every 4 days, the second every 6, and the third every 8. They donate the compost as fertilizers to local farms, so that "bad" produce doesn't go to waste, but instead can be used to cultivate "good" produce. So far, they've had great success!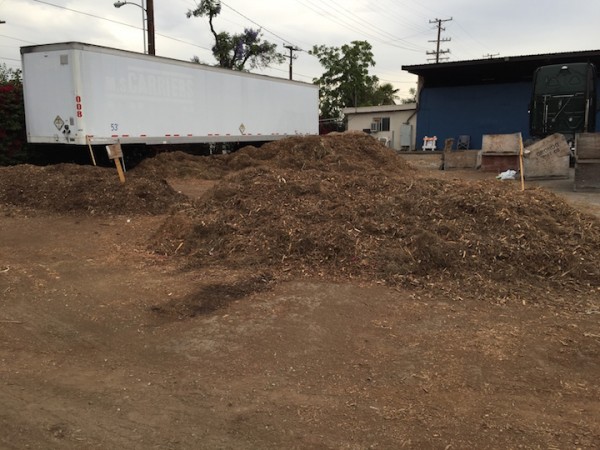 After dropping off at Heart of Compassion and then filling up a second load, we headed over to the Dream Center in Los Angeles, a rehabilitation facility that serves over 80,000 individuals and families each month.
First off, the place was beautiful. The Dream Center used to be a hospital that was built in 1926, but now houses all the patients, staff, and treatment centers. It has an extraordinary view of the Hollywood Hills, complete with the Hollywood Sign to the west.

We were greeted by volunteers, residents of the facility and Dream Center staff. The pantry  buzzed with activity – everyone had a job to do. There were people unloading donations, people sorting them, and of course, more forklifts – and again, I avoided being impaled. There was a feeling that our donations were doing far more than simply feeding people. We met volunteers from an outside organization who were lending a hand by organizing and serving the produce, and residents eager to help us help them; we entered a community of people supporting others who had fallen on hard times, and Food Forward contributes to bringing that community together. It was inspirational.
Chapter 5: It was a phenomenal experience
The day ended around 12:30p. Having been up and active since 2:30a, I was completely exhausted, and the thought of having to drive an hour home and then endure a 2-hour swim practice made my stomach hurt. But once I rested enough to be able to stand up straight again, one thought immediately came into my mind: I just had one of the most extraordinary days of my life.
Leaving the wholesale market, I was humbled not only by the magnitude of the donations we delivered, but also by the enormous amount of produce we were forced to turn away. It was extremely disheartening at first; coming face-to-face with just how much food goes to waste every day made the mission to end food waste look more insuperable than it ever had. That was my glass-half-empty moment.
But then my glass became half-full as I began to appreciate how much weight in produce we were able to alleviate from the trash bins. After working with Food Forward for just over a year, big numbers aren't as impressive to me. I can talk about collecting or harvesting 300 or 5,000 pounds of produce like it's nothing, but the reality is, that's a lot of fruit. 30,000-35,000 pounds – that's a lot of fruit that would have otherwise gone to waste but, because of the work Wholesale Market Recovery does every day, not a pound is actually wasted.
I never could have imagined the gratitude I would feel for such an experience. At seventeen, I feel so honored and privileged to have entered a world of doers, givers, and truly, the most generous people I've ever. Thanks, Food Forward, for facilitating the growth of the most incredible family!