As Food Forward celebrates our twelfth anniversary this weekend, our Founder and CEO, Rick Nahmias, reflects on the journey….
At the start of this weekend I was a bit downbeat, accepting that our annual ritual would not take place: a crew of dozens trekking from LA to a bucolic perch north of Santa Barbara, where six to eight large citrus bins are lined up edge to edge by the local food bank. A few hours of intense volunteer clipping and hauling later, they are filled with thousands of pounds of some of the region's best fruit. A bounty of deliciousness would soon be in the hands of those who need it most, and a unique surge of satisfaction would be had for those who helped be part of the solution.
But maybe a friend and I could go up ourselves instead, leaving a raging pandemic and an infuriating rampage on our democracy, if even for just a few hours, and have some "fruit therapy." With the year we are crawling out from under, that would have to suffice in place of our usual larger celebratory anniversary harvest.
Sometimes scaling life back to the bare basics is the best way to reflect on things, in this case reflecting on a year that would ironically be our most intense, yet also our most prolific to date.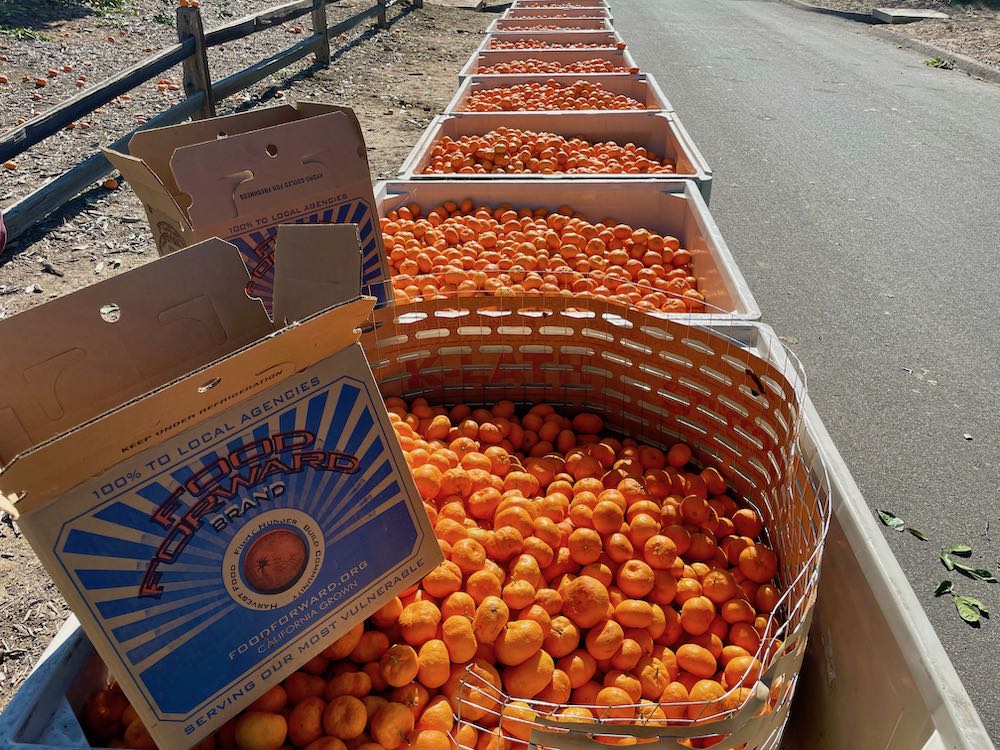 Boxes filled with fresh surplus citrus, recovered by Food Forward volunteers and waiting for distribution by our community partners.
Arriving around 10 a.m. to all but silence, a solitary majestic hawk circling above, I reveled in the good fortune of being in that spot again—sun shining down, defiantly warm for January, a calm Pacific over my shoulder—and remembering the first time I had the chance to harvest over two hundred perfectly groomed, six-foot mandarin trees at this sprawling orchard atop a hill.
It was a handful of local volunteers from the area that welcomed me to this majestic property a decade ago. It offered easy pickings like none I'd ever experienced—a harvest I've come to describe as like clipping tens of thousands of Christmas ornaments off of tree after tree. It's an image not entirely out of step with the season, as this orchard's massive crop requires several visits to clear, and the timing of which always stretches from the end of one year into the next, signaling the start of citrus season and ending around Food Forward's birthday, January 17.
In past years, I've come here with friends, staff, Board members, or other fruit geeks who could hardly believe that just because the fruit samples didn't reach the sugar content requirements of the local market chain that would normally buy them, this entire crop would be left to rot. After a half-day of clipping your way around a tree, covered in mandarin juice and pulp, boot treads full of citrusy muck and mulch, you can't help but feel satisfied. You are physically drained, but also spiritually connected from helping to rescue thousands of these tangy orbs, knowing they would be enjoyed by people struggling to make ends meet: single-parent families, farmworkers living just a few miles away, low-income seniors, college students who had to choose between books or food and more. Like all of Food Forward's work, it's rewarding yet deeply sobering.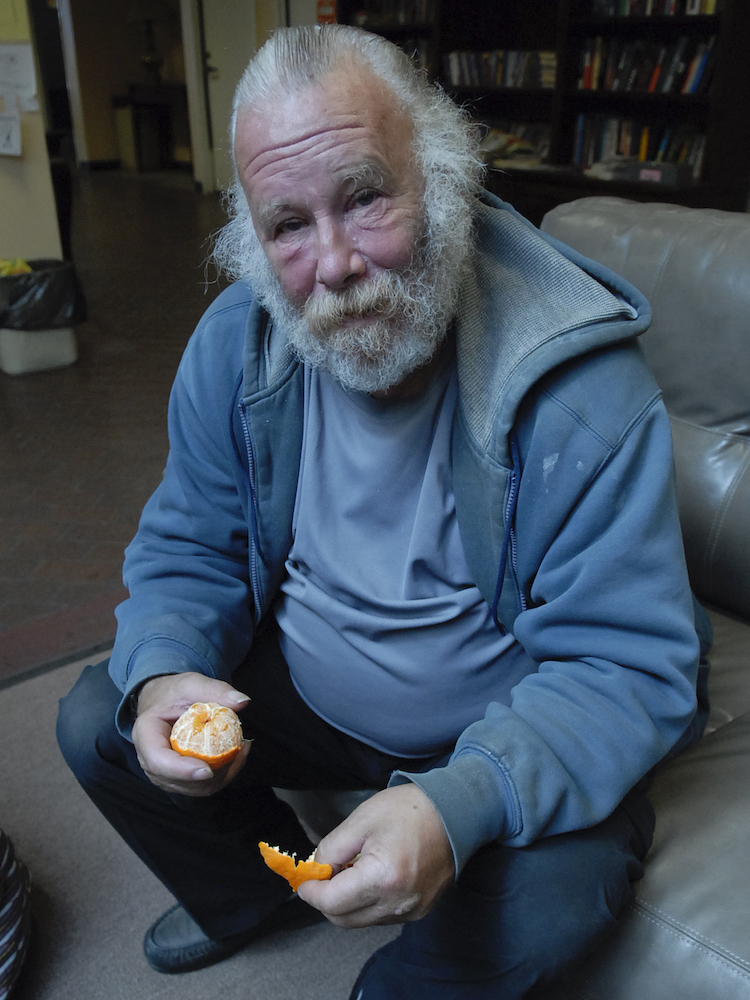 A community member enjoys citrus recovered by Food Forward at our partner agency ONEGeneration.
Returning to this orchard gave me the chance to flip through many of my cherished memories and milestones of what this organization has achieved in its brief but ridiculously productive lifetime, how much it's grown, yet also how, 130 million pounds later, it's stuck tight to its core mission.
There were memories of welcoming 50+ volunteers to this property and ending the day with a donated pizza party from a local favorite, Rustys; gratitude for Food Forward's earliest crew (and co-founders) Erica, Carl, and Marie, who, never having met an orchard they couldn't harvest, would organize annual treks up here; images of our early staff, Martha, Meg, Brenna, and Max—those who imagined the first versions of our logistics systems, volunteer corps, and donor databases; the next crew that picked up the baton and elevated that work to 4,000+ volunteers a year and thousands of gleaning events through the organization's programs; and the birth and rocket-like growth of the Wholesale Program. I'm also struck with thoughts of our current rock-star staff, who have come through the COVID crisis more determined, doubling our impact and redefining the power, urgency, and reach of our work with each passing year.
Just like the trees that surround us and give off exponentially more amazing fruit with each turn of season, Food Forward has only grown stronger with each passing year. Not just bigger, but more resourceful, impactful, and innovative. Food Forward is also now able to attract the nurturing support and talents of the caliber of folks I could only dream of working alongside, folks who come from so many backgrounds and continue to join this passionate zesty family as staff, Board, and volunteers of all varietals.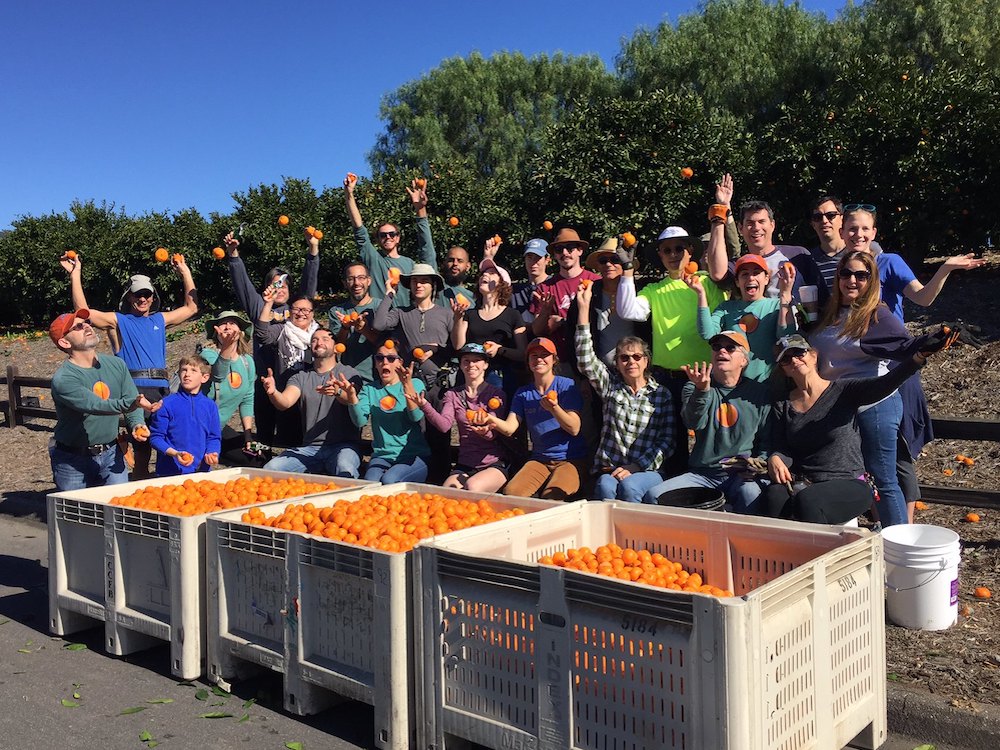 The crew celebrates their hard work at Food Forward's 8th anniversary harvest in 2017.
Twelve years brings with it a personal marking of time as well. It was our first dog Scout that slowly led me through our neighborhood, providing me that original citrus-tinged "Sir Isaac Newton" moment in 2009, Rufus our Catahoula rescue who terrorized early unannounced visitors to Food Forward's North Hollywood office, the Fruit Cave, and now our third mutt, Stella, who has taken to solo-harvesting limes from our backyard tree.
I'll go out on a limb and say our work holds even greater resonance in 2021 than it did at our genesis in 2009: the current massive spikes in food insecurity across our region give us a social imperative to continue to rescue more surplus fruits and vegetables from where it would otherwise be wasted and redirect it to struggling communities; we now recognize and must better educate folks on the essential relationships our work holds to climate change and avoidable health disparities; and we need to better understand and act on the intersectionality of food, social and racial justice.
As we wound down our harvesting on the hill, we couldn't not be in awe of the exponential abundance just one single tree of the hundreds atop this hill provides – in its simplicity, in solving so many problems—its only purpose is to give.
As we start this new year that continues to test our country, we miss the ritual of our annual family harvest but remain together in spirit, mind, and intention as the Food Forward family continues to harvest food, fight hunger and build community.
Here's to fruit therapy–a highly recommended prescription for the New Year.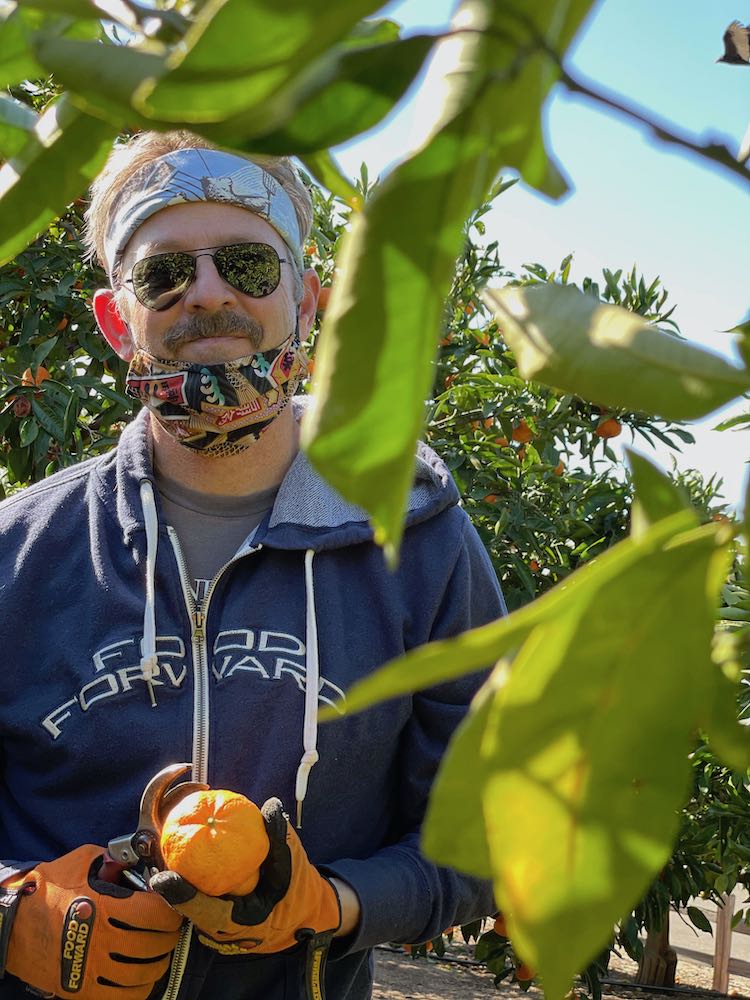 Food Forward Founder and CEO, Rick Nahmais, poses with a mandarin recovered at a recent harvest in Goleta.