Yesterday, I had the honor to harvest in the first backyard where this scrappy gleaning operation began exactly 3 years ago. The Valley Glen tangerine tree where I started this work was on hiatus – taking its every-other-year vacation from fruiting. But the navel tree adjacent to it was fully loaded as it has been every year, with incredible (organic) softball-sized specimens. Just as importantly, the little girl Ava, whose yard it is, and has grown up under and around our ladders, was there to greet us as the Fruitmobile pulled up. She was no longer the tiny four year old sprout (see first photo below) but she now wielded her own picker alongside us and cleared had grown to grasp what our annual visits mean for the hundreds of people who will be fed from the tree in her yard – and the importance she and her mother Heather play in the Fruitanthropy equation as fruit donors.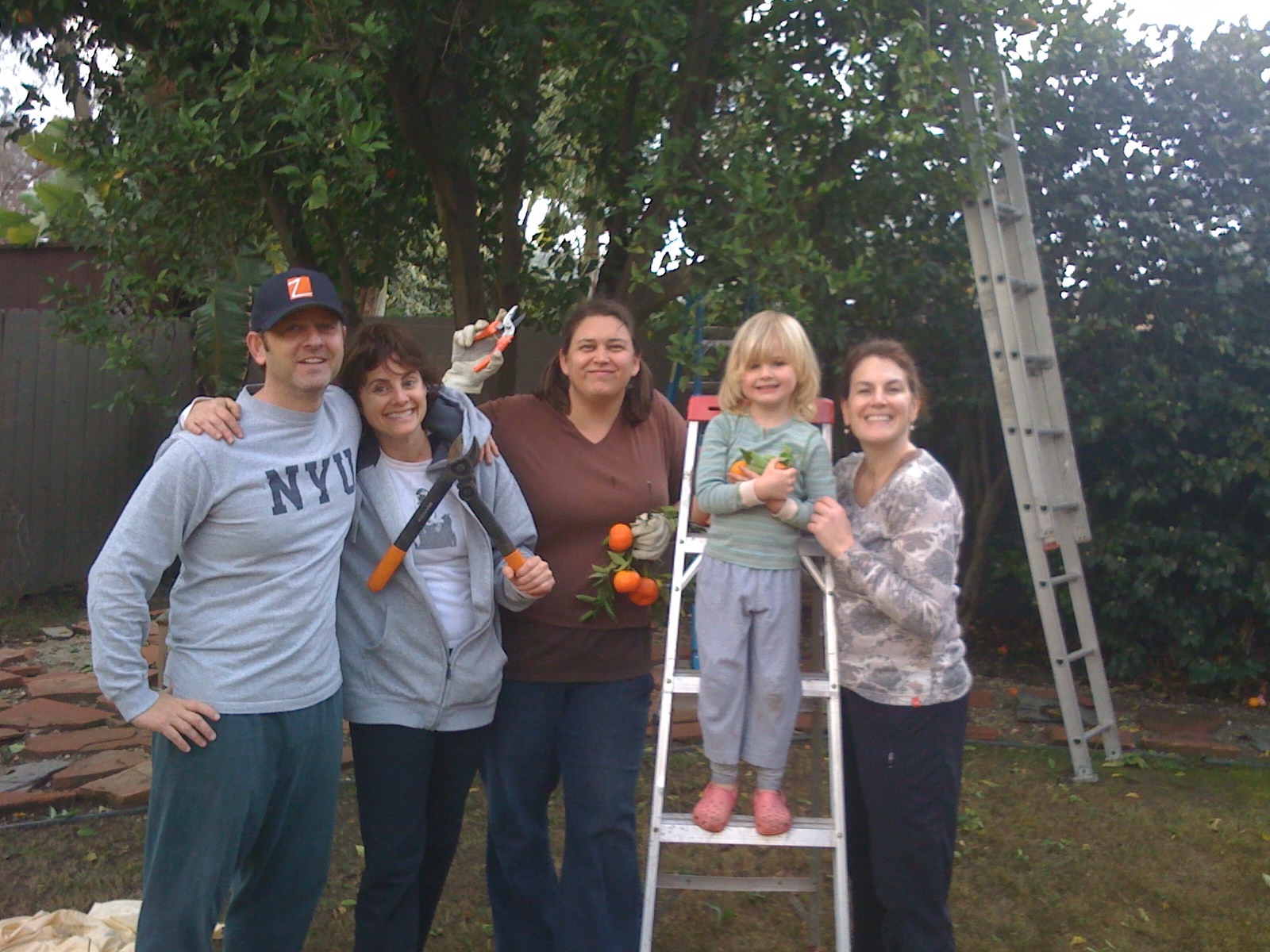 Being Guinea Pigs for their crazy neighbor Rick's idea, joining in on the gleaning and knowing Jan 17th is the magical day for us, Ava and Heather are always there to welcome us and pitch in. Just watching Ava grow to nearly double her size – but more so, seeing her understand and now appreciate the importance of this work is reward enough to keep coming back – the 16 cases of fruit (with some from a neighbor's trees from 3 doors up who has recently joined our program) is irresistible.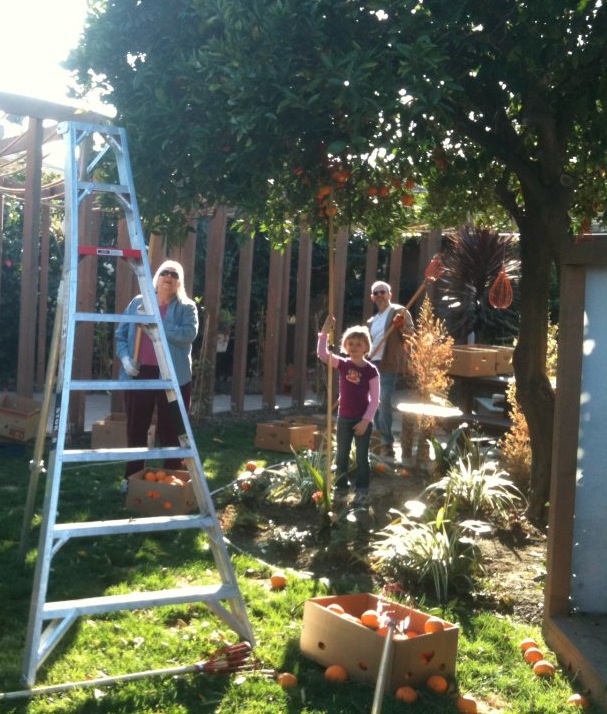 In the time since we began the program in early 2009, with no name, no agenda and just these two trees, we have grown into a professional operation – actually So Cal's largest – that helps food pantries and other agencies feed our most vulnerable with gleaned/rescued produce. Soberingly – the numbers of food insecure (people who are not sure where their next meal is coming from) has also ballooned since 2009 to 50 million across the country. Staggering, angering and yes, vastly actionable. I'll go to my grave convinced hunger in America is a solvable issue. Solvable not by growing more food – but simply by DISTRIBUTING it more thoughtfully, equitably and with a keener understanding that our nation wastes over 40% of the edible food we grow/cook/manufacture. Yes, you read that right – 40%!
Yesterday's pick came on the heels of our 3rd annual Fruitstock weekend in Santa Barbara where over 40 LA volunteers drove 90 minutes north to help glean over 15,000 lbs that were shared by the SB Foodbank, Oxnard Foodshare and MEND. Two days of kick-ass mandarin madness on two gorgeous properties with our SB Backyard Bounty pals were separated by a potluck with new and old friends, board members, staff and donors. Again, an honor to lead it, but even more fun just to be a part of it.
As I wait here in the Fruit Cave for SOVA to pick up those 16 cases of navels from yesterday, which no doubt will flow in and out of their efficient pantry door in 24-48 hours, there is some satisfaction knowing that we may not be conquering hunger at Food Forward but we are fighting it and bringing our community closer with every harvest we undertake.
From 85lbs of tangerines delivered to SOVA on Jan. 17th, 2009, we closed out year three yesterday with over 686,000 lbs (or nearly 2.75 million servings) donated to over 25 agencies in LA, Ventura and Santa Barbara Counties of all shapes and sizes.
2012 holds amazing promise – new programs, strengthening of the Ventura Branch, social enterprise, new interns, new partnerships, a new board chair (the incredible Pam Kaizer) and more – and along with it more challenges. All that to say, every time you drive by a fully loaded orange or grapefruit tree, I hope you will want to rise to the occasion, strap on a harvest bag and go pick?!
Thanks for all the love, support and Fruitanthropy – and here's to the next three years of sharing the abundance across Fruitland.