One of the several initiatives providing more than 15 million pounds, or 60 million servings, to feed those in need.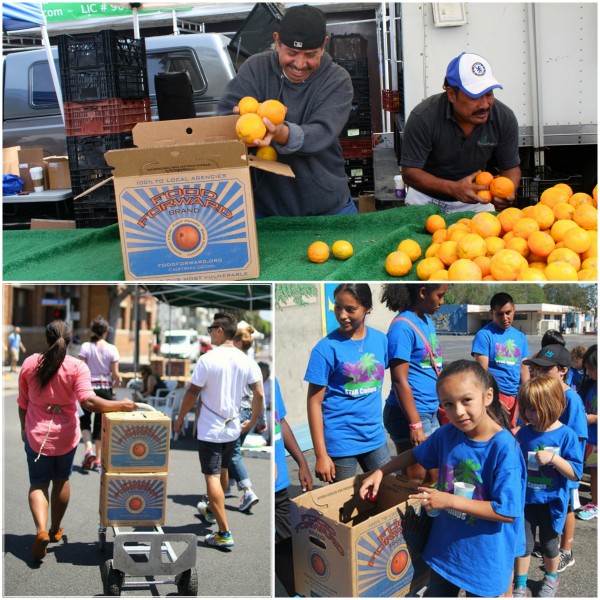 Food Forward, the North Hollywood-based non-profit organization whose mission is to fight hunger, harvest food and build community, has achieved a milestone through one of its several initiatives, the Farmers Market Recovery Program.
As of December 12th, 2015, the volunteer-powered effort to collect farmers market produce left over at the end of the market day has surpassed the one million pound mark. All produce is donated to social service agencies that use it to feed clients in need.
In operation for just seven years, Food Forward has recovered more than 15 million pounds (the number increases weekly) of produce through several urban gleaning initiatives, including harvests in backyards, private estates and public spaces, as well as the Downtown Wholesale Produce Market, which has exponentially increased the organization's reach. More than 165,000 pounds a week are recovered and will feed at least a million people this year.
The Farmers Market Recovery Program, which began in August 2012 at Santa Monica's renowned downtown market, now operates five days a week at 17 farmers markets, including West Hollywood, Hollywood, Santa Monica (two markets), Brentwood, Pacific Palisades, Torrance (two markets), Culver City, Studio City, Calabasas, Pasadena, Burbank, Studio City, Mar Vista, Larchmont, Alhambra and Downtown Ventura.
More than 60 volunteer "Glean Team Leaders" along with 200-plus volunteers each month meet face to face with the farmers to collect unsold, high quality bounty that might otherwise go to waste or be turned into compost. Varying seasonally, the average weekly collection yields 300 to 400 pounds per market up to 2000 pounds weekly at the larger markets (Hollywood, Santa Monica) in summer.
Farmer Debby Takikawa of The Garden Of… says, "Food Forward is the perfect answer to the amazing abundance that comes from the farm. Without Food Forward, we'd be leaving food in the field. It's a wonderful thing to know there's a place for this food and that Food Forward has the capacity to take it all!"
More than 300 social service agencies across Southern California partner with and benefit from all of Food Forward's recovery initiatives.
Lack of refrigerated storage makes it difficult for food pantries to provide fresh produce, the item most requested by their clients. Depending on the season, the Farmers Market Recovery Program provides partner agencies with a wide variety of foods from greens, squash, stone fruit, tomatoes, to herbs, root vegetables, bread and more that they can put to immediate use throughout the year.
"We like the work that Food Forward does," says Craig Underwood of Underwood Farms. "Often those on limited budgets opt for cheap calories and miss out on the good nutrition and healthfulness of fruits and vegetables. We are blessed to be able to grow it and are glad to be able to share it."
The Farmers Market Recovery Program allows agencies to pick up farm-grown produce directly at the markets nearest to them. Among those served are: A Place Called Home (Brentwood and Studio City); Seeds of Hope (various markets); Family Rescue Center (Calabasas); STAR (Culver City); LA LGBT Center (Hollywood); Project Angel Food (Hollywood); St. Joseph's Center (Mar Vista); OPCC (Pacific Palisades); Groceryships (Santa Monica Wednesday); Step Up on Second (Santa Monica Wednesday); Torrance (El Nido Family Centers); SOVA (WeHo); Friends In Deed (Pasadena); Cooking Laboratory (Alhambra); and Project Understanding (Ventura).
The produce is tracked and weighed and the farmers receive a tax letter from Food Forward of the end of the year acknowledging their donations, so it's a win-win for everyone involved.
There's always room for more Glean Team Leaders and volunteers for the Farmers Market Recovery Program and for all of Food Forward's initiatives. To find out more, visit www.foodforward.org or contact volunteer@foodforward.org.
***
For media inquiries, please email Laura Jellum