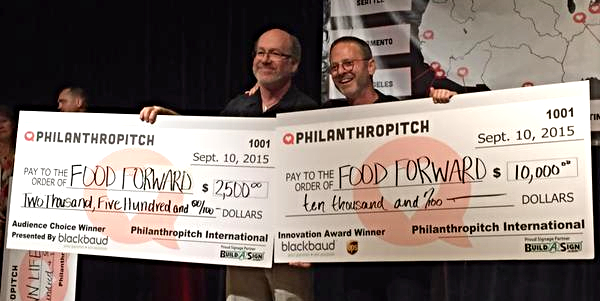 SVP Member and Food Forward Board Member, Scott Jarus, and Food Forward Founder / Executive Director, Rick Nahmias, at Philanthropitch International
On September 10, 2015 the inaugural Philanthropitch International, a pitch competition for social innovators, took place in Austin, Texas. With just three minutes to pitch, each of ten competing organizations from the Social Venture Partners network across the U.S. and Canada had to make its case quickly and impactfully before an influential audience and a distinguished group of judges.
That's just what Rick Nahmias, Founder and Executive Director of the Los Angeles-based non-profit organization Food Forward, did. And he brought home $12,500 in award money to support Food Forward's mission to harvest food, fight hunger and build community. He shared the Audience Award ($2500) and won First Place for Innovation ($10,000).
In just six years, Food Forward has rescued more than 12 million pounds of fresh produce, 100 percent donated to over 300 social service agencies that help feed those in need. Backyard harvests, a Farmers Market Recovery Program and donations from dozens of downtown L.A. wholesale produce distributors have resulted in more than 48 million servings of fresh produce for hungry Southern Californians.
Food Forward was selected to represent L.A. from a list of 135 non-profits that have completed the local Social Innovation Fast Pitch program, organized by Social Venture Partners Los Angeles. Nahmias competed in the 2010 program, winning the Innovation Award and an Audience Award and receiving $6,000 in prize money for Food Forward.
"It was an honor, as I wrote the pitch for this event, to review and re-frame how far Food Forward has gone in the last five years," says Nahmias. "It's crazy to think that when Food Forward competed 5 years ago, there was no paid staff, vehicles, or Board—in fact Food Forward was not yet a 501(c)3. Now we have a staff of 12, a Board of 8, and a fleet of 5 vehicles, all focused on recovering and donating more than 6 million pounds in 2015 alone. The creative process and support Social Venture Partners has given Food Forward since our infancy has been humbling and has served as a guiding light."
To craft his Philanthropitch speech, Nahmias worked with coach Alina Sanchez of SVP who has coached over 75 nonprofit organizations. As the CEO of MLabs, she also coaches executives in the private sector including those at AT&T, Fox and Gap.
Social Venture Partners cultivates effective philanthropists, strengthens nonprofits, and invests in collaborative solutions – creating powerful relationships to tackle the community's social challenges.
According to Diane Helfrey, Executive Director for SVP Los Angeles, "Food Forward was our clear choice to represent Los Angeles at Philanthropitch. Not only is it an elegantly simple concept, but the organization's resourcefulness, growth and community impact are incredibly compelling."
The goal of Philanthropitch is to help seed and support social change in a transformative way with the ultimate goal of helping the winning organization attract a partner for a major investment ($250,000). Nahmias says that Food Forward's wish list for this investment would "provide two logistical experts, a crackerjack IT system and another truck. Together these will allow Food Forward, in 2016, to double the 6 millions pounds already recovered this year."
As Nahmias concluded in his Philanthropitch, "Hunger is not a supply problem. It's a distribution problem. Food Forward offers a home-grown solution that's replicable across the country."
The text of Rick Nahmias' Philanthropitch is available upon request to [email protected]