Dear Food Forward Friends & Supporters,
We are very excited to announce the first fundraiser for our organization in the form of a book launch reception and signing of our founder Rick Nahmias' brand new book "Golden States of Grace: Prayers of the Disinherited," a thought-provoking photo-documentary look at religion on the margins of California.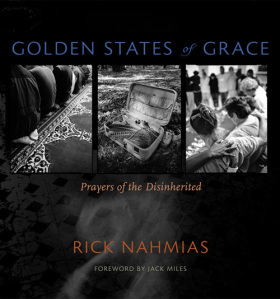 "'Golden States of Grace' brings together such depth and diversity of faith and humanity, that it is seems three-dimensional. It is hard to think of another body of work which looks so compassionately at the faces and voices of disinherited peoples while asking us to think deeply about and how we own or disown those on the margins. It is a book for anyone who has ever felt left out, pushed out, or just wondered what it feels like to be on the outside – that is, a book for all of us." -Sister Helen Prejean, Author "Dead Man Walking"
Through a generous arrangement with the publisher, University of New Mexico Press, Food Forward will receive a full 50% from the sale of EVERY PAPERBACK copy sold at this event only.
Date: Saturday October 2, 2010
Time: 4:30-7pm
Where: UCLA's Religious Conference
900 Hilgard Avenue, 1st Floor
Westwood, CA 90024
Please see the attached PDF for details of the event, and please feel free to share it with your friends, family & congregations.
Though this is an event open to all, and there is no fee, an RSVP is required to attend, in the form of a call to our fruitline at 818-530-4125 or to this email or marie@foodforward.org
We hope you will join us – and pass word (and the attached PDF) along about this event – a great way to support Food Forward and get an early look, and a signed copy, of an exciting and truly unique new book!
We hope to see you there,
The Food Forward Team