6.12.17 – Food Forward's new initiative in South LA, made possible through a partnership with Watts Labor Community Action Committee, provides a compelling example of what's possible when the "abundance" that's all around us gets channeled through community based leadership.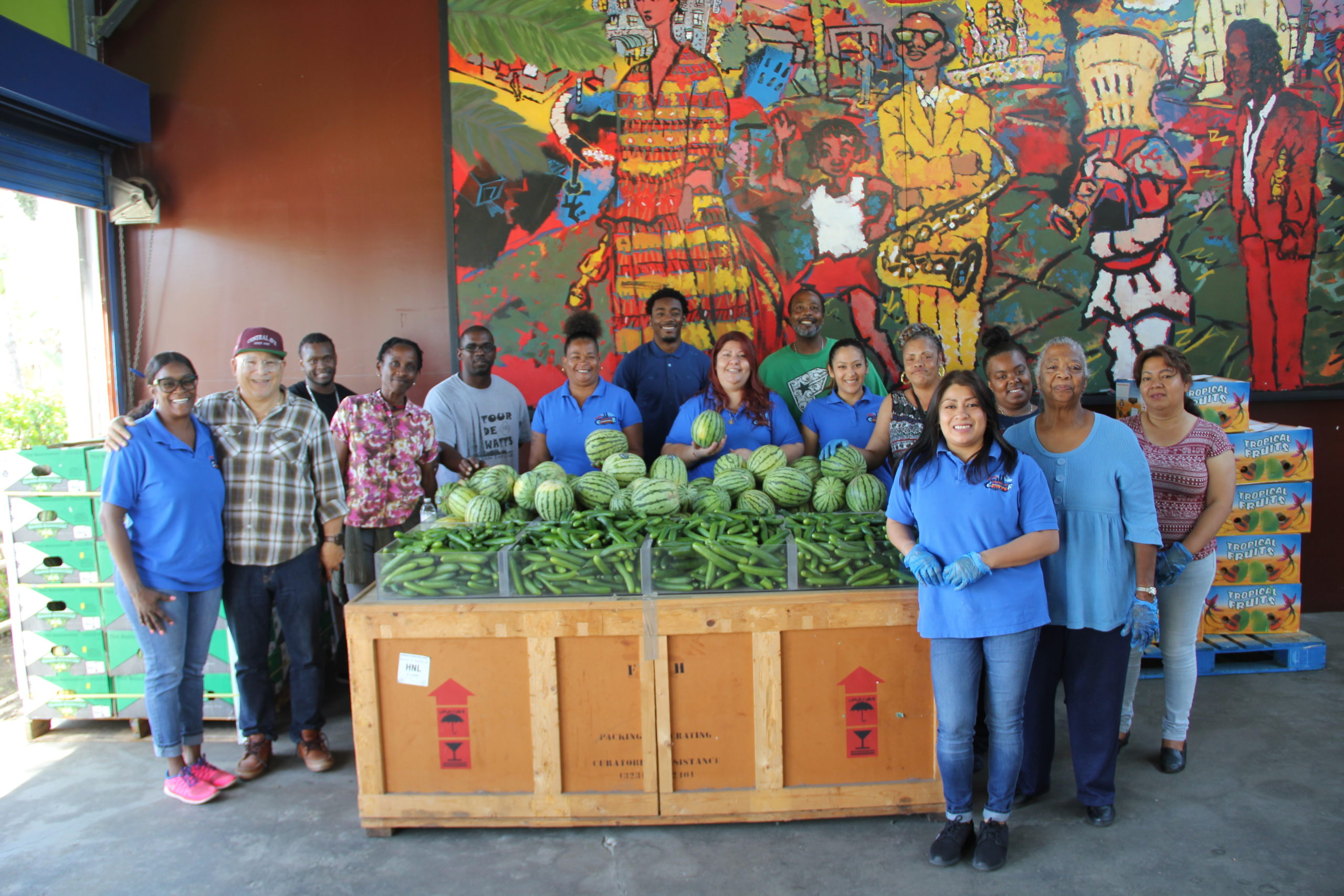 This isn't expressly a story about hunger, food insecurity, food deserts, or even poverty.  It isn't about proving the legitimacy of those problems to get people to care or to get people to do something.  It's about people who do care, who have done something, because those issues are obviously real, and are an intimate part of their everyday lives.  This is a story about how those realities start to change.
It really feels like it's happened overnight. South LA Collective and 500 plus households are already receiving produce on a weekly basis. The Watts Labor Community Action Committee receives a truckload of produce from the Wholesale Recovery Program every Wednesday and acts as the hub which distributes the produce through a network of 9 community based orgs. But WLCAC is more than just the "hub", Sheila Thomas and her indomitable team of case workers from the Family Source Center are the hosts, orchestrators, and the driving force behind this new initiative.
"We were the ones to answer the call," as Sheila puts it, in describing the moment the opportunity presented itself to partner with Food Forward on this initiative.  And what made WLCAC the perfect collaborator?  According to Luis Yepiz, Food Forward Wholesale Recovery Manager, and the one to first approach WLCAC with the opportunity, it was "the willingness to do the work."  He explains, "everybody wants to feed people. It's warm and fuzzy, but at the end of the day it's a lot of hard, physical work, and it's tough to sustain.  They didn't shy away.  You could tell their understanding of the need was powerful."
Which brings up an essential piece to this picture coming together.  The struggles in the daily lives of the members of their communities isn't an abstraction to the staff of WLCAC or the other 9 orgs that have jumped at the chance to make a difference.  Their understanding of the need isn't an idea, it's rooted in real lives, it has faces and names, and they have an emotional connection to it.  So since it wasn't an idea, they weren't interested in coming up with the right idea to solve it.  They were just looking for an action to take.
The members of Sheila's team spend their days finding shelter for their homeless neighbors, helping victims of domestic violence take the difficult steps to move forward and start lives anew, presenting youth with avenues other than gangs, helping people navigate the immigration system, and so on.  "I've given someone my lunch before because they didn't know where their next meal was coming from" says Suzie, one the case managers.  When she was asked how the team responded when presented with the choice to organize a weekly free farmer's market, meaning to take up a whole new challenge, one they'd never done before, and one that was going to require effort above and beyond what they were already doing, Suzie said the choice was easy.  "No one hesitated.  We all love the community, and we see what it needs.  And we know this builds trust, and trust is what it takes for people to let us help them move forward."
"This really does build up the community.  People want to be here, they're working, but it's just not enough.  People need nourishment… believe me," says Ms Martin, a retired school teacher of 45 years, who's one of 250 people picking up two bags of produce each at the "free farmer's market"one Wednesday.  She's taking back food for her whole household that includes her son, daughter in law, and two grandkids.  Her son works for an org on Skid Row feeding homeless folks, but is bringing home just minimum wage.
By the Community, For the Community
Fifty or so people at a time wait in line, but the mood is light.  WLCAC's space is open, airy, and colorfully filled with locally created art.  People laugh, chat, everyone is patient.  Ten people are allowed through the "market" at a time, and are able to fill two bags full of produce each.  Today they're selecting from lovingly sorted and stocked bins of peaches, peppers, watermelon, cabbage, tomatoes, lettuce, squash, cucumbers, and onions.  Vans and pickups come from the 9 other orgs to take their share back for their own distributions.  There is a general air of comfort and belonging here week after week.  "It's great to see everyone coming together like this" remarks Jose, a member of the nearby Willowbrook Community Garden.
"You know, this is a throwback to the 70s when it was all the community was helping the community" Sheila comments.  "I think the fact that this is by us and for us gives people a sense of hope and shows there's more we can do."  
Food Forward works at the intersection of food waste and hunger, trying to reconcile the fact that 40% of the food produced in this country each year goes to waste, and at the same time 1 in 6 Americans face hunger.  What is it going to take to connect that food "abundance" with those in need?  I certainly think the passion, commitment, and leadership of Sheila and her team of Chimere, Azucena or "Suzie", Mayra, Paulette, Danielle, Leslie, Kenneth, Marsela, Ruby, and Bonnie, provide a compelling example to follow.
As do the other members of the collective, who are helping people to grow their own food, are feeding families, seniors, homeless folks, and youth, and generally making it possible for people to sustain themselves in the communities of South LA.  They are: Parents of Watts, Willowbrook Community Garden, Kid's Castle, Grant AME Church, the Heart of Watts Garden, First to Serve, Girls Club of LA, Hale Morris-Lewis Manor, and the LA Neighborhood Land Trust's Fremont Garden.  Because it's exactly this kind of community self-determination that we want support.
The fact that this initiative has come together virtually instantly, utilizing only available resources, should serve as a reminder of the "abundance" that's around us right now.  And the fact that it started with only 1 org and now includes 10, who all learned about the project through word of mouth, should serve as a sign of the as of yet unexhausted supply of "can do" out there.  But for anyone still unmoved… well, I'll let Sheila have the last word. When asked to give some advice to those interested in working to address hunger and food insecurity in their own communities who just haven't taken that first step yet, she offered simply, "Stop overthinking it."