Partnering with Pasadena's Public Schools
We're really excited about a new partnership with the City of Pasadena and Pasadena Unified School District. Pasadena offers free meals to anyone under the age of 18 throughout the summer and continues to supplement meals for students during the school year. With such a big reach, they've been a perfect partner in our food recovery and produce distribution work! I was invited to join them at La Pintoresca Teen Education Center (LPTEC), an afterschool program for high-school students at La Pintoresca Park in Northern Pasadena, and came away SUPER impressed by what both educators and students have been able to do with a few deliveries of fresh fruit.
Pasadena provides full meals for as many as 1,000 students every day throughout the summer and school year. That's a lot of food, but it doesn't mean that the fresh fruit they receive from Food Forward goes unnoticed. According to Jessica Handy, Administrative Intern with the City, pre-packaged cups of juice often fill the requirement for servings of fruit, and the snacks aren't always filling or refreshing. Receiving from Food Forward allows the students to add fresh fruit to their lunches and to have healthy snacks in the afternoon.
Students learn to love healthy food
The students in the afterschool program were not so interested in eating fresh fruits and vegetables at first, said Yuriko Montes, Recreation Services Specialist. Teenagers, she observed, were not usually as open to trying new foods as younger students in the program. However, she said that with Food Forward's fruit deliveries, "since it was available and they had more awareness about where it was coming from, they took more ownership and became more open to trying it."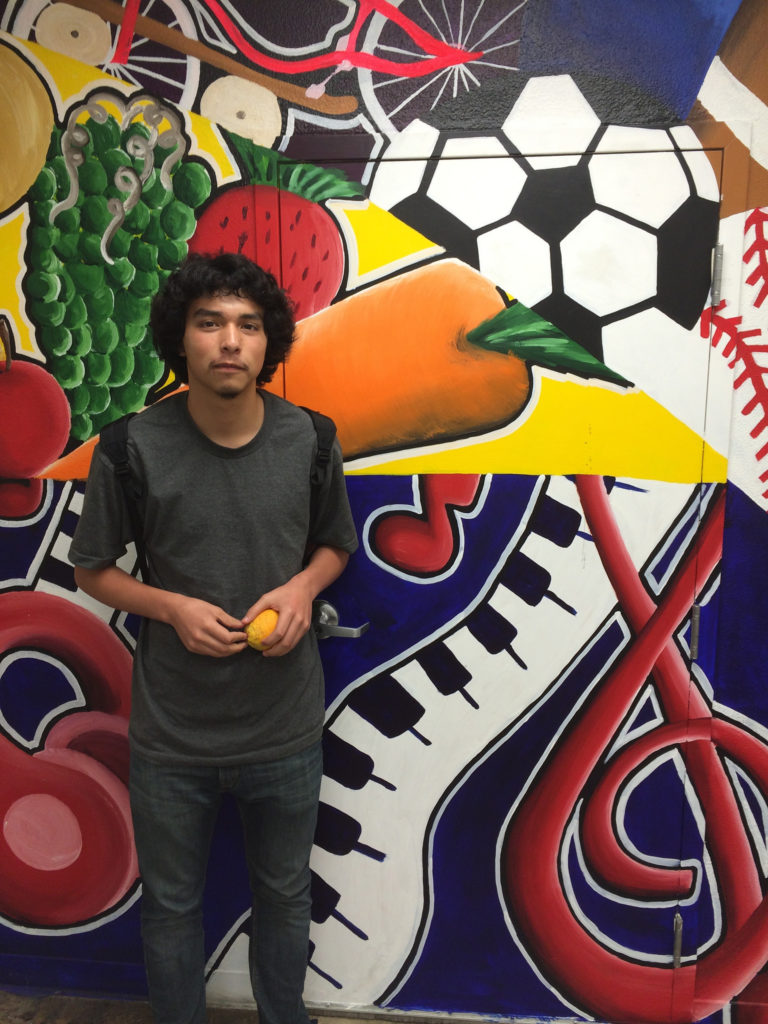 That ownership was clear to me as soon as arrived, when the students welcomed me in and then came out to help me unload boxes of oranges and persimmons. We talked about fruit trees and food waste, and they told me about all of the different programs that they participate in through LPTEC. These students have been leading all sorts of cool projects related to food, sustainability, and community, and they've been able to bring Food Forward's fruit into these projects in really inspiring ways.
Becoming Food Justice Advocates
According to Yuriko, participation in Pasadena's free meal program had been declining over the past couple of years, even though the number of families with children living below the poverty level is higher now than it has been since 2006. The students in LPTEC's afterschool program became advocates for the Free Meal program and had an amazing idea. Creating a new branding campaign, design, and logo, these students passed out fresh fruit and used the opportunity to promote the meal program to children and families across Pasadena. They told me that Pasadena residents were very pleasantly surprised to be offered fruit that was grown in backyards in their own neighborhoods, and participation in the meal program began to rise.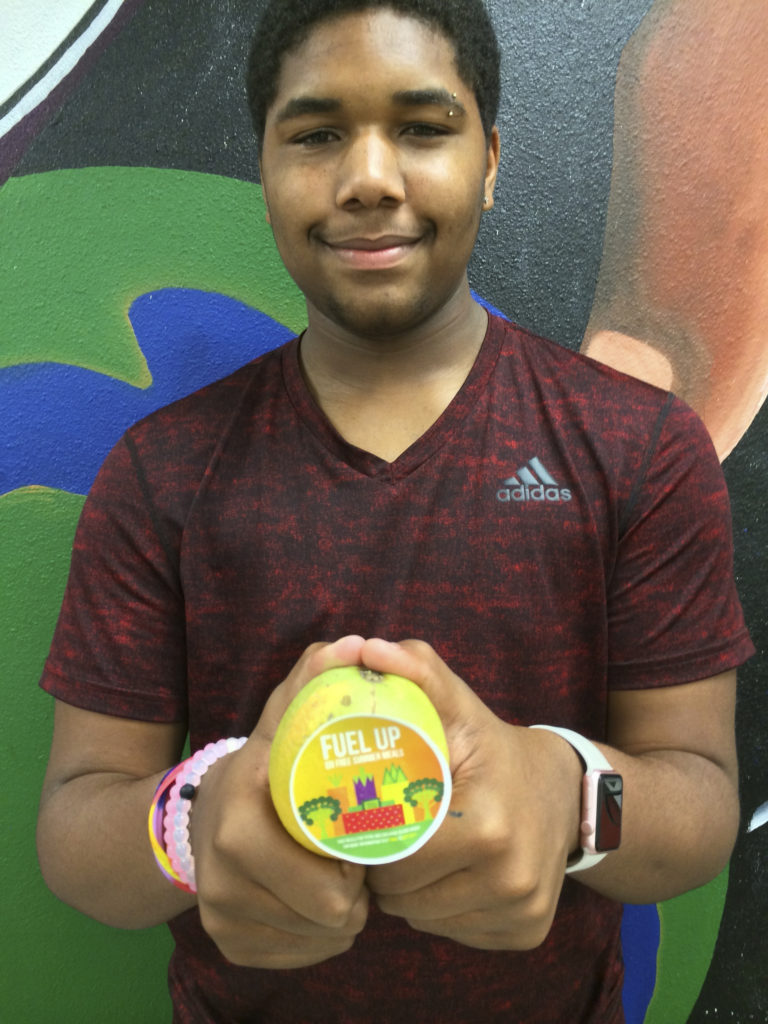 Besides using the fruit in their promotional campaign, the students at LPTEC used Food Forward's fresh donations to try new recipes in their cooking classes (fresh juices and aguas frescas seemed to be especially popular there), inspire arts projects, and fuel lots of fun outdoor activities. The students' familiarity with food system issues was also clear in our conversation about Food Forward's Food Recovery Programs. As we dove into the boxes of oranges that I brought over, these students reminded me that, besides being good for snacks, food means a lot to our local communities. These students are food lovers and food advocates, and they inspire us here at Food Forward to be the same.
LPTEC Student Recognized by Michelle Obama
UPDATE: I learned recently that one of the students that I met at LPTEC, Dalon, is an award winning artist and recently went to the White House to receive an award from First Lady Michelle Obama. Here's Dalon showing me his favorite part of LPTEC's kitchen: the fridge.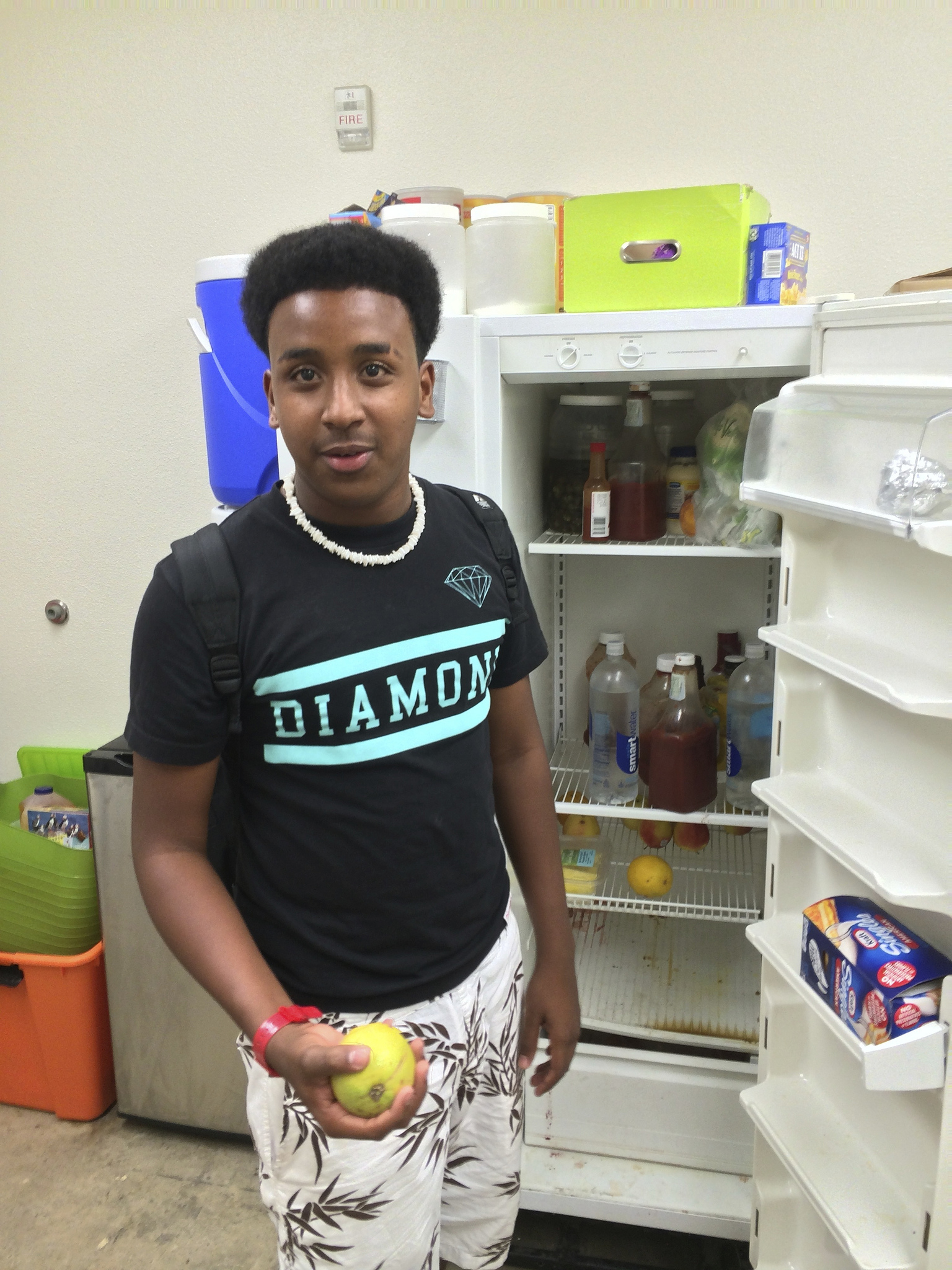 – Joe Bobman, Volunteer Coordinator