When you walk into this unique senior community in the heart of Hollywood, you are greeted by people in vigorous debate, sounds of vintage disco and residents tossing lines back at the TV, which is playing latest episodes of 'Girls.'
Welcome to Triangle Square, a facility offering 104 on-site apartments, and one of the nation's first communities catering to gay, lesbian, bisexual, and transgender low-income elders. At first glance, the eye-catching, architecturally-significant building fits in perfectly amongst Hollywood's newest developments. However, its residents are just getting by on a combination of pensions, government assistance, disability, and donations of goods such as weekly fresh produce from Food Forward.

Triangle Square is one of Food Forward's earliest produce recipients. Residents have received nearly 25,000 lbs, or 100,000 servings, of healthy locally grown produce since 2012, when our Farmers Market Recovery Program started.
Just steps from our collection and sorting area at the Sunday Hollywood Farmers Market on Selma and Ivar Avenues, Triangle Square houses a variety of seniors who have built a community after living hard-scrabbled lives, in many instances, as the first wave of publically "out" LGBT individuals. It has given them stories, scars, and a sense of camaraderie one rarely sees in urban settings.
According to Kathleen Sullivan, Ph.D., Director of Senior Services for the Los Angeles LGBT Center, which operates Triangle Square, "California is the only state in the nation that forbids its most vulnerable and poorest seniors from receiving food stamps. Once a Californian is age 65, if they are receiving Supplemental Security Income, they can no longer receive food stamps. At Triangle Square, close to 75% of our residents live at the poverty level and Food Forward's donations are really a difference between eating healthy food or not eating at all, especially towards the end of the month."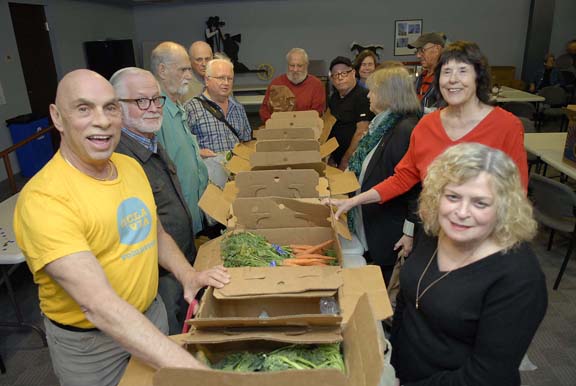 As the Food Forward boxes of produce arrive each Sunday, residents jockey for a place in front of the tables in the community room. The fruits and veggies will be set up here and residents will soon serve themselves based on a choice model: taking the produce that appeals to them.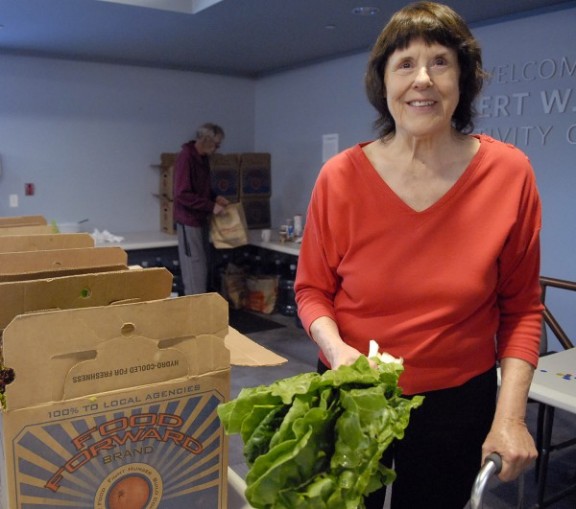 Erica Kletzin, a retired RN who lives at Triangle Square, says, "Our residents are getting healthier – they have more energy and are going to more groups here. This program has improved the quality of their lives."
The Hollywood Farmers Market is a chef's paradise and is ground zero for dozens of high-end restaurants in the area. Many farmers selling here cultivate exotic or highly sought-after specialty produce. The result is that some of what Food Forward volunteers glean here is unfamiliar to people who were raised during an era when peas-and-carrots were staples, decades before sunchokes and arugula ruled anyone's menu.
Food Forward is now furnishing simple recipes to help Triangle Square residents use unfamiliar yet healthy produce like kale and Swiss chard. They are up for the challenge and excited to experiment, preparing dishes in their efficiency apartments.
One of our volunteer Glean Team Leaders, Alicia Magallanes, who is a registered social worker notes, "The older adults look forward to receiving the nutritious fruits and vegetables we collect each week. Every older adult should have access to healthy food, and I really enjoy sorting through fresh produce that I know they will equally enjoy preparing in their kitchens."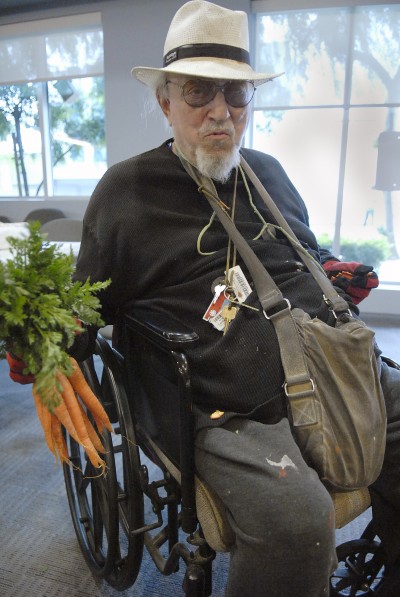 Dan Shupe, a resident of Triangle Square and weekly recipient of Food Forward Farmers Market Recovery produce, explains, "The money starts getting very tight at the end of the month because we're not working like we used to. So before this, I'd go to the drugstore to buy [processed] food." When asked about how he likes the weekly produce donations, he said, "It's shocking how good it is."