One of the first things you notice upon walking through the doors of A Place Called Home (APCH) is the color and warmth of the environment. It is a place that pulses with life and is full of people who love what they do.
A Place Called Home has been a youth-based, non-profit agency since 1993, providing after school and weekend programs that enrich the youth around its South Central location. APCH began in the wake of the 1992 Los Angeles Riots and Civil Unrest, events that made the need for an organization like APCH even more apparent, and have been helping the community grow stronger – literally and figuratively – ever since.
APCH states: "We offer nourishment for the mind, body, and spirit." At the center of this approach are on-site programs and partnership initiatives including an organic fruit and vegetable garden where members get in touch with nature and grow healthy, fresh food. There is also meal preparation for children under 18 and grocery distribution to many of the low-income families who come through APCH's doors.
We had the pleasure of visiting with students who belong to the Junior Chef Program. This program is geared towards elementary and middle school age students who want to learn the basics of working in a kitchen and preparing healthy meals from scratch. These students attend a weekly Junior Chef class and help to serve daily meals to all APCH members.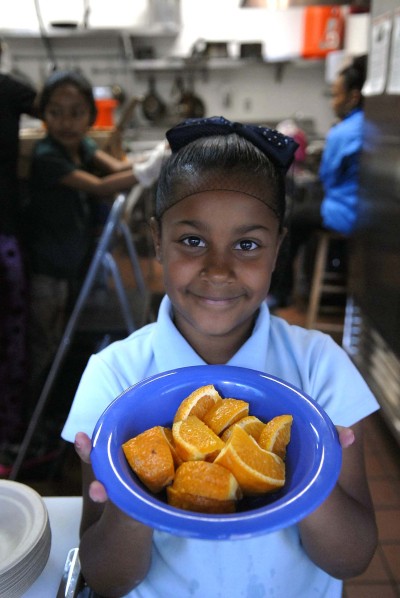 Bella says: "I like working in the kitchen because it gives kids new experiences. It's fun because the kitchen is big and it has things we don't have at home. I like the lasagna."
This is where Food Forward enters the picture. Since August 2013, through our Farmers Market Recovery Program, we have donated weekly allotments of fresh produce to APCH. In this short time, these donations total close to a quarter of a million servings!
APCH volunteers currently pick up produce at the Brentwood and Studio City Farmers Markets each week and put all of the wonderful food to use, whether they are juicy oranges or more challenging ingredients like kale or chard. Greens like these often become part of the 4-5,000 fresh cooked meals coming out of their modestly-sized but heavily-used kitchen every single month. In some cases, these meals are the only complete meal APCH members have all day.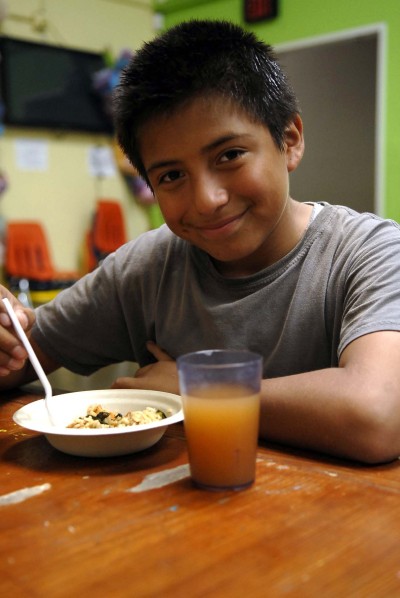 Jonathan enjoys lunch: "I like being in the kitchen because you can learn new recipes and if your mom isn't there you can bake or cook something yourself. I like when other people try what I make"
Beyond overseeing the garden, participants of the Junior Chef program are given the specific responsibility to cook for and serve their peers, which earns them practical experience with ingredients, kitchen equipment, health and nutrition and food safety practices.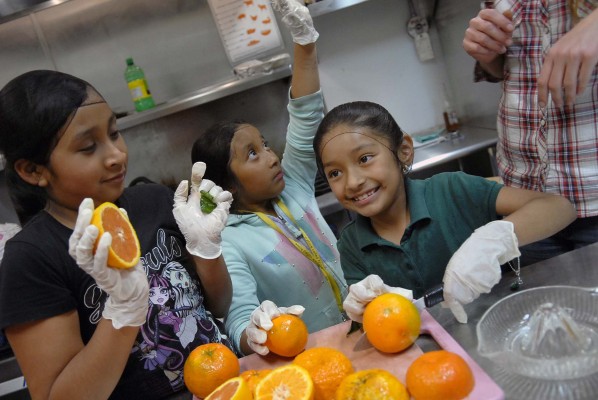 Yoselin (right, in green shirt) says: "I like the garden because then you can take care of living things…. I also like to cook. I like the kitchen because all the food is fresh. [Food Forward] gives us food that is healthy." 
This program provides a lovely symmetry of kids cooking for kids – with just enough adult supervision. The day we visited it was great to see not only the preparation of healthy rice bowls that incorporated Food Forward's freshly gleaned greens, but also children being adventuresome enough to try anything their peers brought out from the kitchen.
Additionally, APCH teaches youth and parents to prepare meals at home that are economical, nutritious and flavorful. A change in eating habits can help to reduce risk for diabetes, obesity and other chronic health problems and has the positive impact of improving attention and engagement at school.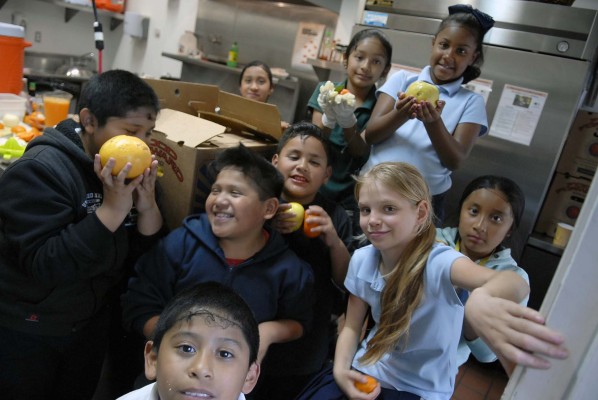 Without Food Forward's weekly donations of hundreds of pounds of mixed produce and the occasional drop of grade A citrus from our Backyard Harvest Program, A Place Called Home would have to redirect tens of thousands of dollars from its budget, sacrificing other essential services they offer or, simply, do without.
Summing it up perfectly Chef Jorge Caughman, APCH Nutrition Supervisor, says: "Food Forwards produce donations substantially increase the daily availability of fresh produce to APCH members and their families. Our budget has its limitations and without these fruit and vegetable donations we would not be able to create healthy lunches from scratch for over 300 members daily."
It's easy to see why it's named A Place Called Home.